Women's basketball team rolling on despite hurdles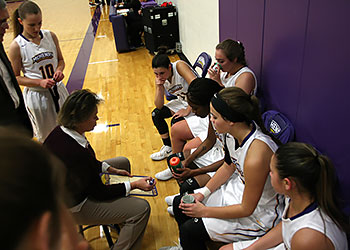 Hang on for a minute...we're trying to find some more stories you might like.
The 2017-18 McHenry County College Women's Basketball team of eight girls remain leading contenders for conference champions even through the hurdles of sicknesses, injuries and concussions that threatened to stand in their way.
The women's basketball team has managed to stay on top with a winning record but most importantly they won the conference semifinal Saturday, March 3 beating South Suburban, 64-59, in overtime. They will play in the finals on March 10 at Waubonsee Community College in Sugar Grove, IL.
The team managed to fight through many injuries early in the season with shooting guard Jasmine Glover suffering a total of four ankle sprains, twice on each leg, causing her to miss the season opening game and sitting out an additional two weeks.
The women pushed through and kept a 6-0 run to start the season off strong.
Shortly after, MCC's women's basketball team's leading scorer Lacey Gardner (Forward) averaging 20 points a game was forced to miss a game during the two weeks Glover was out due to a mild concussion.
As if the players could not get a break, following those to tragedies early in the season, against Kishwaukee Community College, Caitlyn Moisant (Forward) battled for the ball and hit the ground hyper-extending her knee resulting in Moisant being out for approximately two weeks while waiting for MRI results.
On December 12th Moisant made her comeback, continuing to play with a brace on her knee but that did not take away from her fire and focus for the game.
Just before the Illinois Community College holiday tournament a fight for the victory against Bryant Stratton, Madi Kaemf was fouled causing her to hit the floor hard, putting her out for a week and a half with a concussion.
Having so many injuries that early in the season Coach Karen Wiley said: "You do not dwell on adversity you embrace it, every player on this team has a very important role they need to fulfill and this gives them a chance to step up."
The women's basketball team traveled down to East Peoria for a three day tournament where Kaemf returned to the court, unfortunately going up for a layup she fell down slightly spraining her ankle causing her to sit out the rest of the tournament.
Kaemf is a key player to the team and their success, frustration levels were high but the women did not let that hold them back, Kaemf continued to be a vocal leader from the bench.
After resting up during winter break, six days after practice had begun she was up and running again.
One thing a coach can never teach is effort, Kaemf's dedication to be back on the court was impeccable but she could not catch a break, two weeks after being cleared to play, against College of Lake County she sprained her other ankle.
Having a key player out for so long many teams would feel hopeless but again that did not stop the Scots.
Grace Gajewski continued to be a burst of energy every minute of every game hitting quality shots for the team.
Amber Proberts stepped up to the challenge and as Coach Wiley said: "She is no longer only a softball player, her improvement throughout the season has made her a true basketball player."
Kaleigh Johnson and McKaylie Krey collectively being vocal team leaders pushing the team for success on the court and in the classroom.
"Being at the top puts a target on your back because you are the team to beat," Wiley said. "Take it with pride but it will not be easy, nor is it supposed to be."
Of course, she was right, every team brought their A-game and it was not easy for MCC's Women's Basketball team, they had to work for every victory.
In February they lost some key games to secure their spot as conference champs.
It was a fight to the finish against Prairie State and Moraine Valley, coming down to the final seconds of the game, losing both by only a single point. But the title is still at their finger tips.
"You can never become complacent, every game goes to the aggressor," said assistant coach Ken Ruud.
Taking some key losses as they did, teams could choose to let it shatter their confidence, or capitalize off of it. This team is hungry and greedy for the title of conference champs.
Now having all the pieces to their puzzle back on the court, the women's basketball team have been hard at practice and are ready to  fight to the finish.
Same intensity, same fire, same focus, McHenry County College Women's basketball team has goals, grit and dedication to each other.
As Karen Wiley's "Motivational Monday" quote read: "You've got what it take but it will take everything you got."
Never shy away from adversity but embrace it.