Veteran says support key for students who served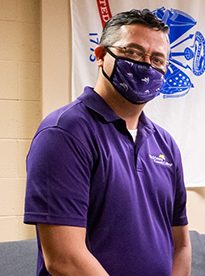 November the 11th is a deeply important day for many Americans. It is a day in which veterans are honored for their service to the country. Ceremonies are held and those in the service who risk their lives in the military are celebrated.
One such person is Gerardo Banuelos, a veteran who served in the U.S. Air Force and former employee at the Student Veteran Resource Center at MCC.
He says that he was "very blessed to have found a position in the military that I enjoyed." On Veterans Day, Banuelos takes time to enjoy some rest. "For Veterans Day, my family and I spend the day relaxing and enjoying the day together."
Although no longer in the position, he recalls his time working for the SVRC at MCC. "My time in the SVRC was an experience that helped me appreciate the value that we assign our veterans here at McHenry County College. From the first day it has been a great learning experience."
Banuelos says that he spent his time guiding fellow veterans through the process of using their benefits, an experience which he enjoyed very much. "Having the intimate knowledge of the different processes that are required to begin higher education and most importantly being able to guide members of our military to use the benefit that fits them best has been an incredibly rewarding experience."
By helping students that were in the service, Banuelos was reminded of his own experience going through the process for the first time.  "I would be reminded of the first day that I stepped foot into a community college and began my journey into higher education having recently left military service."
To him, working with students and helping them is a pleasure which he is grateful to have experienced.
Banuelos has had the opportunity in the past to work with many veteran-focused organizations all across McHenry County, including the Patriot Run, Bunker Hill Charities, Veterans R&R, Veterans Path to Hope and various VFWs and American Legions in the area.
Overall, Banuelos feels blessed to have had the opportunity to work for the SVRC and reap the benefits that come alongside it, such as working with students and helping them find their way at MCC, as well as gaining experience to help him find his own way in life.
"Finding this position at McHenry County College also helped broaden my horizons, it gave me exposure to the field of Higher Education, a career path that I had not considered in the past."
Banuelos explains that he still has connections and is a good person to help anyone who is interested in the student veterans club. "Although today I am no longer in that position, I still am able to connect with our veterans here at the college through the Student Veterans of America Club, open to anyone interested, whether you are military or not does not matter."
Clubs like the SVRC and veteran-focused organizations all throughout McHenry serve as examples of the well-deserved support that veterans need. However, what happens after the big day? Do the majority of people forget about veterans in the days and weeks following the holiday?
Many veterans still struggle, despite there being certain social safety nets in place throughout the country and in Illinois.
According to Patch, as of October 2020, over 1.2 million veterans of the 18 million in the United States live in poverty, and about 37,000 are homeless. 559,656 veterans live in Illinois, 5.7 percent of the state's total population, and among them 6.6 percent live in poverty. Around 690 are homeless as well.
The unfortunate reality seems to be that for many veterans and their families, many people who are not affected show apathy. After the celebrations and the ceremonies, they still have to struggle to pay the bills, or put food on the table. Some are forced to live on the streets and cannot afford their basic needs.
While there are many provisions in place to assist veterans in adjusting back into civilian life, such as veterans' food pantries, compensation, education, housing, and other benefits, the poverty rate is still too high.
Hopefully, spreading more awareness about these issues in the community would make people less apathetic to the problems plaguing many veterans in Illinois and instead more receptive. More people would be willing to join in helping these suffering veterans get the benefits and support that they rightfully deserve from society.