Plays mean work for MCC theatre students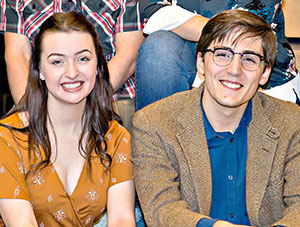 McHenry County College showcases a variety of plays that students in theatre work hard. Jay Geller is the chair of Theatre, Speech, and Journalism at the college and one show he produced  in Spring 2018 was a true hit —  "Trudy and Max In Love."
The two main characters that are present in the play are Trudy and Max. Rhiannon Palmer (Trudy), is now attending Emerson College in Boston to follow her passion of theatre, but she graduated from MCC.. Sean Plotts (Max), spent all four years of high school involved with theatre production and starred in four shows throughout his time at MCC. Plotts also loved the challenge of the role and the play, while being a part of theatre production.
"Trudy and Max In Love" is a play that captures love and lots of humor. Trudy and Max are two characters in the play that spark up a connection after their first initial conversation at a writer's office. There are also other characters seen throughout the play such as Cliff, Rochelle, and Billy. These three characters help shape the relationship that Trudy and Max develop throughout the entirety of the play.
The play was featured at the Black Box Theatre at MCC for  nine total performances in  March 2018. It is a play that all of the theatre students worked diligently on to make sure it is a stellar show for everyone to enjoy or as Geller states: "theatre and writing plays really just bring people together."
Geller, is finishing up his nineteenth year teaching at the McHenry County College as well as being a part of the Theatre, Speech, and Journalism programs. "With my job, I get to teach, grow, learn, and work with students from start to finish, especially in theatre," said Geller.
There is a lot that goes into theatre productions and Geller will be the first to say that, "at ten at night, after rehearsal, and driving back, it gets tiring; but boy is it a lot of fun." He enjoys watching the theatre students shine throughout their performances, particularly "Trudy and Max In Love."
"Trudy and Max In Love" is a great play that tells a lot about the romantic connections that spark between people. "My favorite scene was the last scene in Act I; I think that is really when you get to see the relationships come together and kind of form," said Geller.
The attention to detail for the play  was stunning. The cast and production team laid out props and timed their play parts beautifully. The MCC students actors captivated emotion and really stayed within character. Their laugh, tone, and actions had no flaw. This play is good at finding laughter in every conversation being told. Every time each character was about to state something, there was no automatic buildup of knowing that something funny was going to be said next, which easily made the play more entertaining to watch. Most of the dialogue  that is depicted within this play, illustrates all the different elements of humor.
Geller also mentioned other upcoming plays: "Mr. Burns, A Post Electric Play" will be performed on March 7, 8, 9, 14, 15, 16, 21, 22, and 23. "Mr. Burns, A Post Electric Play" is an American dark comedy play that is written by Anne Washburn. All performances start at 7 p.m. Tickets are $10 for Students, MCC Employees, Seniors, Alumni and Veterans and $15 for general public.  For reservations, please call 815-455-8746 or message [email protected]
Geller also mentioned that "next fall we plan the musical 'Spring Awakening' and the following spring will be focused on a play produced by Bill Daniel, an alumni of McHenry County College."