Bulls forward Markkanen's sophomore season delayed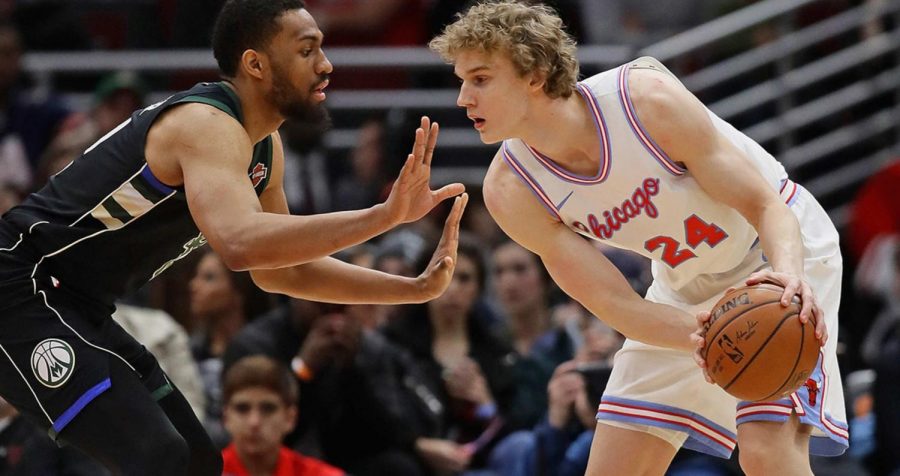 The Chicago Bulls roller coaster is officially leaving the station and buckle up because there was a training camp injury. Lauri Markkanen sprained his right elbow fighting for a rebound in a late September Bulls practice.
"It's a minor setback," Markkanen told the Chicago Tribune. "I'm just ready to get back to work. Hopefully, I can be even a little better than I am right now. You can always improve other things."
The injury will keep Markkanen sidelined for six to eight weeks and must keep his shooting elbow immobilized. There is good news however, as the injury will not require surgery and the second year Finnish player can still condition and work on other aspects of his game. This setback will prove to be interesting as the Bulls young core of Markkanen, Kris Dunn, and Zach Lavine played only 255 minutes together last season. Also, the Bulls newest off-season signing, Jabari Parker, will have to wait to play with Markkanen which could affect the young team's chemistry early on. The Bulls begin their season October 18 against the 76ers in Philadelphia.
The Chicago Bulls have one of the most interesting storylines of almost any team in the entire world of sports. As a team they experienced one of the most dominant championship runs in history winning six NBA titles throughout the 1990s. The Bulls were the model of dominance lead by the greatest player to ever live, Michael Jordan.
Time went on and the Bulls struggled throughout most of the early 2000s trying to fill the gaping hole left by Jordan and his teammates. The Bulls saw a glimpse of hope when Derrick Rose became the youngest player to win the Most Valuable Player award at 22 in 2010, but ultimately injuries kept Rose from becoming the elite player he might have been. The Bulls entered the 2017 season yet again looking for a new superstar to lead them to greatness.
On the night of the 2017 NBA Draft, rumors had circled around the Bulls trading their top player, Jimmy Butler. These rumors eventually proved to be true as the Bulls ended up trading Butler to the Minnesota Timberwolves for the seventh pick in the draft along with other players. The Bulls finally had their opportunity to draft a star and could not strike out again.
With the pick, they selected Markkanen, a seven-foot forward who had one very impressive college season at the University of Arizona. Markkanen was born and grew up in Jyvaskyla, Finland and comes from a family of outstanding athletes. His father, Pekka played basketball at the University of Kansas before he moved on to the Finnish Professional Basketball League along with Finland's national basketball team. His mother Riikka also played professional basketball and his brother, Eero, currently plays soccer in Denmark's professional league. Sports and competition run through his blood and he very well have been born with a basketball in his hands.
Even with his family's athletic pedigree, scouts still viewed Lauri as more of a role player for a team and the overall consensus was that he was not good enough to be a star in the NBA. At seven feet tall, he definitely had the length to contribute to a team but overall was much too skinny to be a powerful forward inside by the hoop. He is, however, an outstanding shooter and as the NBA has evolved players over seven feet that can shoot the ball from outside have become extremely valuable. A team having their big men able to shoot from all over the floor is a concept that is most prevalent in European basketball and has made its way over to the United States.
The head coach of the Chicago Bulls, Fred Hoiberg is one of the younger coaches in the NBA and has been highly regarded for his fast paced and spread out offense. To many, Markkanen was the exact type of player that Hoiberg needed; he struggled his first couple seasons as a coach with players that did not quite fit his offensive system. Hoiberg's job was not necessarily in jeopardy coming into Markkanen's rookie season but the team needed to show some signs of growth and needed young players to take confidence in.
Bulls fans did not need to wait long to get excited about their new rookie from Finland. He made his NBA debut on October 19, the Bulls first game of the season, and scored seventeen points in a loss to the Toronto Raptors. This was exactly what fans had been looking for, although his numbers were nothing spectacular, it felt like the start of something that was finally positive. This was a nice feeling, the front office made a move on draft night that was a fairly large risk and it showed signs of paying off. So, for fans, it was nice. Then it got fun.
Markkanen had a blazing hot start and even set records for the most three point shots made in the first three games of an NBA career and also the fastest player to make one hundred three-point shots. One month in to the season, he recorded his first double-double (when a player achieves double digit values of two different statistics) with twenty-six points and thirteen rebounds. Back issues kept Lauri from a fair amount of games his rookie season and kept him from getting playing time late in games.
As his injuries subsided and he learned the way of the NBA, Markkanen received more playing time and eventually had no restrictions on his game minutes. With no restrictions, Lauri played a career high forty-six minutes against the New York Knicks where he managed to score a whopping thirty three points. In this same game, he made eight three-point shots and became only the second player in the history of the NBA to do so besides future Hall of Famer, Dirk Nowitzki. On January 28, Markkanen scored seventeen points against the Milwaukee Bucks which put his season total at 721 points which made him the highest career scorer among NBA players from Finland.
Markkanen's rookie year went somewhat under the radar for non-Bulls fans due to a very talented class of rookies in the NBA for the 2017-2018 season however, Lauri was still selected to the NBA's All-Rookie First Team. He proved himself to be one of the top five rookies in the entire league and also proved to Bulls fans that their team may have a bright future. Although his rookie season was promising there are still some concerns will Lauri overall.
One of the most glaring concerns from scouts during the draft process and throughout his rookie season was Markkanen's size. As a player, he has no shortage of skill but his game could be elevated to much higher levels if he had a stronger frame. This past offseason, Lauri silenced his critics and basically transformed his body.
"He looks like an entirely different person, like he still has his old body but is wearing a Superman suit."
This was a quote from a fan who was shown pictures of Markkanen during his rookie season and more recent pictures of him after he spent this summer bulking up. According to an interview with the Chicago Tribune, Markkanen claims he added fourteen pounds of pure muscle to his frame which will surely make his dunks that much more powerful.
Chicago sports fandom overall is detrimental to one's health and is not recommended for the weak of heart. My teams have been building, destroying, and rebuilding their identities my entire life and at times it seems like there is no light at the end of the tunnel. As a Bulls fan now, the tunnel does not seem as dark, we may not be out yet but there is a light and it is definitely shining. That light is the birth of a new star, a tall shooting star from Finland, Lauri Markkanen.