Future of Blackhawks may rest on shoulders of rising star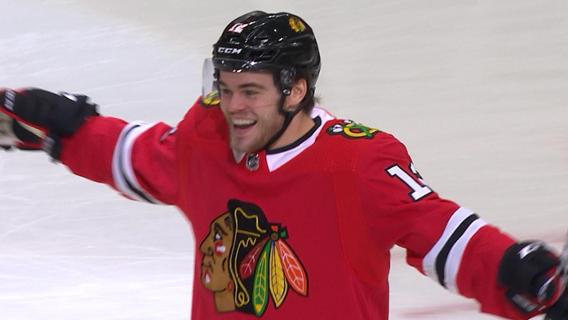 By Ryan Wolch, Staff Writer
April 3, 2018
Hang on for a minute...we're trying to find some more stories you might like.
Alex DeBrincat is an upcoming star who may be the future of the Chicago Blackhawks.
DeBrincat dropped out of high school at Lake Forrest Academy at age 15 to pursue hockey. Instead, he did online schooling during breaks of practice, meetings, games, and travels.
DeBrincat was born on December 18th, 1997 in Farmington Hills, Michigan. His height is 5 feet 7 inches and he is 164 pounds which is not really NHL player average size, but he uses that disadvantage to his advantage.
He is a current NHL player that was drafted in 2016 by the Chicago Blackhawks in the second round. DeBrincat was a member of the Erie Otters in the Ontario Hockey League and was very impressive there. He played for the Otters from 2014-2017.
DeBrincat did not take long to impress people, in his first season as an Otter he scored 51 goals and 53 assists in 68 games. He won the OHL rookie of the year award for that season.
Erie Otters' general manager Sherry Bassins said in an interview: "To win this award is not only an honor but you have to be an elite player."
"And for [Alex] to win this award after being told he was too small to play at this elite level, makes it much more satisfying for him" she said. "The Otters are extremely excited for this talent as he grows in this developmental league."
DeBrincat won the Red Tilson Trophy which is the most prestigious individual award presented by the Ontario Hockey League. He is the fourth player of the Otters to win this award and the third player in the last four years to win that award.
DeBrincat joined Team USA in the world junior championship tournament, but he ended getting cut off the roster and missed the tournament. He had been on the previous team when it won the bronze medal in Helsinki, Finland. That most likely was motivation for DeBrincat.
DeBrincat joins former teammate and current NHL player Connor McDavid as the only Otters' players ever to be named rookie of the year. In his second season, DeBrincat continued to show his potential as he again scored 51 goals and 50 assists in 60 games. DeBrincat said he learned a lot in his first season from his teammate at the McDavid.
"You can learn to play with speed, and he does everything at top speed," DeBrincat said. "So that is kind of one thing that has helped me. I have also tried to do everything at top speed, to try to emulate a little bit of his game."
DeBrincat is the 2nd player in OHL history with three straight 50 goal seasons — he scored 51 goals in 2014, 51 goals in 2015 and 65 goals in 2016. He led his team using his amazing offensive production to a 2nd straight Hamilton Spector trophy as the first overall team in the regular season, a third straight Midwest division crown and a Canadian Hockey League record fourth straight 50-win seasons.
DeBrincat made his debut on October 5th, 2017 in a 5-1 win over the Pittsburgh Penguins, five days later he scored his first NHL goal in Montreal. Blackhawks player Patrick Sharp passed the puck to DeBrincat who was in front of the net and just sniped that shot passed Canadians goaltender Carey Price.
The Blackhawks prior to the 2016 NHL draft traded Andrew Shaw to the Montreal Canadiens for a pair of second round picks — one of those picks was DeBrincat.
In an interview after the Montreal game,  he commented on scoring his first NHL goal: "It's hard to explain. It's a dream come true," DeBrincat said. "You think about that moment your whole life and it finally came true."
According to NHL.com rookie stats DeBrincat is ranked 7th on NHL rookie leaders with 42 points.
On March 18th, DeBrincat scored his third career hat trick in a 4 to 3 overtime loss to the St. Louis Blues. He scored two goals in the first period and then was set up and fired a great shot over the Blues goaltender Jake Allen to take the 3-2 lead with under 4 minutes left but St. Louis ended up tying the game and winning in overtime.
According to NHL.com, DeBrincat becomes the first rookie in Blackhawks history to record three hat tricks in their rookie season. To put this into perspective, DeBrincat has three hat tricks in his rookie season but it took Patrick Kane — probably one of the best Hawks players ever — 623 NHL games to score his first regular season hat trick.
Many agree that DeBrincat's best skill is his ability to play the game 10 seconds ahead of everyone else, he is always where he needs to be, and he gets time to get the puck, stop, get his shot and score.
There are three main things you need to know about Alex DeBrincat. First, he scored 167 goals and 165 assists in three seasons which totals to over 300 points. Second, DeBrincat has so much skill and he is a team player because he knows what to do and is not selfish with the puck —  he passes the puck as much as he shoots the puck. Third, DeBrincat will be an NHL star. This young player has so much talent and already has three hat tricks in his rookie season — so be on the lookout because you will keep hearing the name Alex DeBrincat.