Sexual assault awareness month events on campus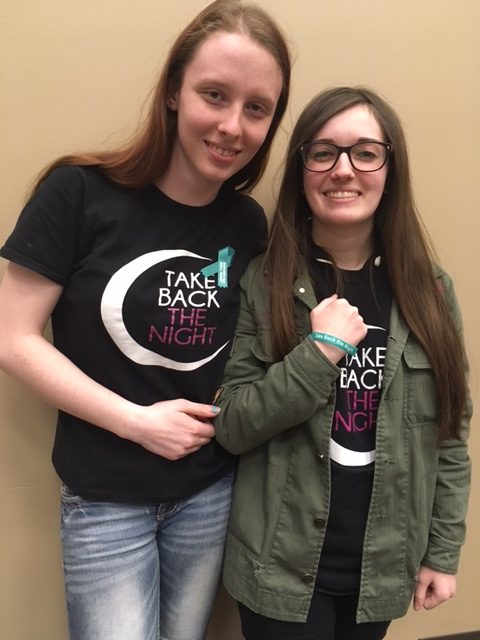 April means winter is over, spring is here, sunshine and flowers. That is what most people think of April. However, this month also stands for something else; Sexual Assault Awareness Month. This month is used to spread awareness and ways of prevention for sexual violence. Not sure how to get involved? MCC offers several ways right here on campus.
MCC's Student Peace Action Network (SPAN) is sponsoring an annual event called Take Back the Night. The event will be held April 11th at 5 p.m. in the Luecht Conference Center and is free and open to the public. The whole purpose of this event is to raise awareness of sexual assault and violence with various different activities.
The event starts with the clothesline project presented by Northwest Center Against Sexual Assault (NWCASA). T-shirts will be displayed with stories of survivors written on them. This project gives a visual representation of the problem at hand.
A resource fair will be held in the commons. There will be plenty of information available for those who attend. At 6:30 p.m. the speakers will begin in the Luecht Conference Center along with a Q&A session. These speakers include, prevention educators, child advocates, as well as legal attorneys.
The event will be concluded with a march outside around MCC's campus. It will end at a fire pit near the peace pole.
Along with Take Back The Night, MCC is hosting another event called Break the Silence. This event focuses on sexual violence prevention training. Participants will receive a certification after completion. The event is free, but does require registration to save your seat. The event will be held April 17th at MCC.
There are two training sessions available. The morning 10-11:30 a.m. session is for the general public, whereas the 5:30-7 p.m. session focuses on youth topics and is for parents, administrators, and teachers.
The event aims to give members of our community the tools to help prevent sexual assault. You will learn the warning signs, important facts, and what you can do and say to stop assault or harassment. Click here for more information and to register. https://www.eventbrite.com/e/break-the-silence-prevent-sexual-violence-in-mchenry-county-tickets-42955689624
The Northwest Center Against Sexual Assault is a great resource within our community for sexual assault survivors and the people close to them. They offer advocacy, counseling, crisis intervention, as well as providing the community with prevention and education services.
Arden Bubula, an advocate from the CARE Center, McHenry County's branch of NWCASA, gave a sexual assault presentation to the Sociology of Sex and Gender (SOC 261) class at MCC. During the presentation, the class learned important facts, information, resources, and what the CARE Center offers.
They help survivors in any way they can. This includes, support at the hospital after an attack. The CARE Center will send trained volunteers to go meet and sit with a survivor while they undergo medical treatment following sexual violence. They provide emotional support as well as give the survivors resources and information that will help them.
They also offer legal support. They will help the survivor go to the police, go to court, and support them in the courtroom. In some cases, the legal advocates go to court in the survivor's place so they don't have to face their attacker.
Overall, the CARE Center is focused on the survivor. "We are survivor centered. We help the survivor in whatever way they need," Bubula said. They will not push or force a survivor into anything, including legal action, or anything the survivor does not want to do.
Another way to get involved is to volunteer with NWCASA and the CARE Center. Volunteers undergo 40 hours of training. After that is completed, these volunteers respond to hospital calls and meet with the survivor to provide emotional support as well as resources. Volunteers commit to a minimum of 12 hours of month. This is a great way to help the community and help those victimized by sexual violence.
Overall, Sexual Assault Awareness month is important in spreading awareness and educating the community of the issue at hand. Many people overlook sexual assault because it is not easy to talk about. We can't begin to solve the problem until we are aware of the problem. Get educated, get involved, and spread awareness.