Koreans united for games only so far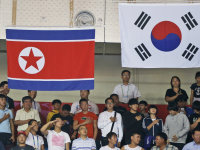 Hang on for a minute...we're trying to find some more stories you might like.
Many Americans had not heard about North and South Korea uniting during the Pyeongchang Winter Olympics this year until the opening ceremony.  I saw it as a positive notion, knowing that South and North Korea are still technically at war, but not everyone looked at it so diplomatically.
"It's a trick, North Korea will attack before the ceremony is even over," said William Larsen of Algonquin.  Back in 2002, a North Korean patrol boat attacked a South Korean ship and killed six sailors during a Korean-Japan soccer tournament that North Korea was attending.  Not only were the South and North Koreans playing on the same field, South Korea had paid all expenses for their neighbors to attend the tournament.  Many young South Koreans have verbally opposed this joint venture for the Koreas, and now it faces even more controversy as South Korea footed the multi-million dollar cost to have the North Koreans participate.
On March 5, a high-level South Korean delegation held a historic meeting with North Korean leader Kim Jong Un, but experts  are skeptical the talks will lead to any diplomatic breakthrough over the North's nuclear arms program, according to USA Today.
Many South Koreans were upset that North Korea has "upstaged" them, stealing some of their spotlight from their Olympic bid and victory.  It's true that the experience is shadowed by this inclusion, but no one can deny that all that money spent by your government is disconcerting, especially if the likelihood of war is in the future.
"If North Korea had been willing to pay its own way to attend the Winter Olympics, it would have been an easy way for them to signal good faith and seriousness about dialogue with the South. I expect this incident will reinforce the wariness among some in South Korea about engaging with Pyongyang," Daniel Wertz, a North Korea analyst at the National Committee on North Korea, told Newsweek.
South Korea's government probably expected to pay those expenses because North Korea is very impoverished. North Korea is one of the world's poorest countries, and its economy has been devastated even harder recently due to international sanctions in response to the country's nuclear weapons programs.  Again, this has happened before for tournaments in 2002 and 2005, however none were as expensive as this Olympics are turning out to be, with over 500 delegates  attending including musicians and cheerleaders.
All in all, I do believe this unification has historical value, however so far North Korea really hasn't shown any vested interest or actions.  They have asked for a summit meeting with South Korean president Moon Jae-in after the Olympics, but until then questions remain: Could the North Koreans be giving peace a chance, or can this risky move end up causing more trouble for rest of the world?