Tokyo is an exciting destination for any traveler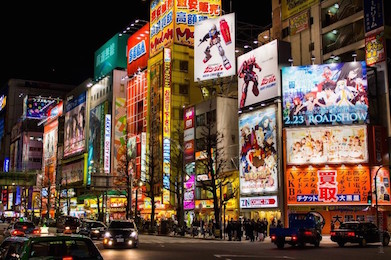 By Brandon Ahne, Staff Writer
January 29, 2018
Are you looking to travel the world but unsure of where your destination should be? Look no further than Tokyo, Japan. The city of Tokyo is currently flourishing. It is the largest metropolitan area in the entire world and is home to over 30 million people (according to City Mayor Statistics). In Trip Advisor's World City Survey, Tokyo was voted the number one city for best overall experience.
Alex Murvine, 18, knows Tokyo is the first place he'll visit once he graduates from high school. "Tokyo has always been a destination I hope to visit. Ever since I began watching anime, I've always been interested in Japanese culture. The city has so much to offer from the food to the beautiful landscapes. I want to travel there as soon as I can," Murvine explained.
If you're planning to visit Tokyo one day, you can rest assured knowing you won't run out of things to do. However, there are some things to consider when planning your trip.
Money
Japan operates using Yen (¥) as their form of currency. At the moment, roughly 112 ¥ translates to one US dollar. Although Tokyo has gained a reputation for being one of the most expensive cities in the world, some of this is unwarranted, and you can find your trip being fairly affordable. Tokyo is like anywhere you visit in that depending on where you decide to spend your money has a lot to do with how much you're going to end up spending.
For a week's trip, the expenses will add up from anywhere between $2000-$3000 per person (depending on how frugal you decide to be). Also worth noting is that despite its many technological advancements, the city of Tokyo has surprisingly remained a cash-first society. Always keep physical Yen on hand to ensure you never find yourself in a pinch. Many Tokyo ATM's close around eight in the afternoon, so plan accordingly.
Logistics
Obviously the largest part of your vacation budget will be dedicated to airfare. According to Kayak, the average price of a roundtrip ticket from Chicago to Tokyo is $1500. But they also note buying at the right time tickets can get you tickets as low as $900.
For living arrangements, there are a variety of options. Luxury hotels, which contribute to Tokyo's expensive reputation, cost up to $700 a night. But much cheaper options are available. A standard hotel costs around $200, and a budget hotel around $75 per night.
But if you're like me, Tokyo's amazing cuisine is more important than a luxury hotel. In order to save money for other things, consider staying in a capsule hotel which can be as inexpensive as $30 a night. These capsule hotels have a shared living space and bathrooms while providing you with a small private sleeping area the size of a bed. This is barebones living, but definitely worth considering when budgeting your Yen.
Finally, there are many options for getting around Tokyo. There is an underground metro train and subway, as well as buses and taxis at your disposal. If you plan to visit destinations outside of Tokyo, a Bullet Train "All You Can Ride" week pass can be purchased for roughly $250.
Food
Perhaps the most important reason anyone decides to visit Tokyo, food is going to be a huge part of your trip. Trip Advisor says the city is home to more than 85,000 different restaurants. According to Japan-Guide, Tokyo's top cuisine options have accrued more Michelin stars than both Paris and New York City combined. Tokyo's specialties include sushi, tempura, chankonabe, soba, and monjayaki.
Whether you're eating ramen from one of the thousands of small shops on the side of the street, freshly barbequed meat, or fine dining expensive cuisine, there is no shame in any of the calories gained on this vacation. Every single bite will be a gift from higher powers sent straight to your tongue. Don't be afraid to try new things, and make every single meal (and maybe the meals in between meals) count. Also be sure to slurp your noodles as loudly as possible. If you don't, it will be considered rude in Japanese culture.
Entertainment
Tokyo has essentially become the pop culture capital of the world. From video games to Japanese animation, fans from these (now not so) niche mediums can find everything they love and more throughout the city.
Fans of anime should visit the Akihabara district. Also known as "Electric Town," here you can find surpluses of Anime toys, characters and figurines, as well as a vast selection of manga. This district stretches for blocks and is home to large buildings dedicated solely to anime. The district began as a home to many electronics shops, which is where it got its nickname according to IGN.
Fans of video games will also find heaven in Electric Town. Akihabara is hosts many retro video game shops like the popular "Super Potato." These shops sell many old school systems and games. Want a classic Nintendo-64 in mint condition? Pick up one of the dozens off the shelf. Don't forget to grab a copy the original Super Mario to go with it. Gaming aficionados are easily able to satisfy their needs for nostalgia throughout this district whether they're making purchases, or spending their time in one of the many popular arcades that are no longer found in America.
For travelers less interested in pop culture, visit the Tokyo Dome, the home of the Yomiuri Giants, to catch a baseball game. In the surrounding area, the Tokyo Dome Complex is home to many stores, restaurants, and also an amusement park. Or maybe you'd rather visit Ryogoku Kokugikan, the sumo stadium. Here you can watch traditional Sumo wrestling and also visit its museum.
Tokyo also boasts many large shopping districts where you can find anything and everything. The most popular shopping districts are Ameya-Yokochō (known for clothes and cosmetics), Shibuya (home to popular contemporary fashion as well as the busiest intersection in the world), and Takeshita Street (a district popular with young people for its small shops and people dressed up as anime characters).
Other notable destinations include the Yushukan War Museum, Tsukiji Fish Market, and the Shinjuku Gyoen National Garden.
Architecture
If you're visiting Tokyo to find an "Instagram-worthy" picture, you're going to run out of memory space on your camera. There are endless amounts of beautiful destinations to visit. Tokyo is home to many shrines that hold years of Japanese history and tradition within their beautiful architecture. Most of the shrines are free to visit as well. One shrine worth visiting is the Meiji Shrine. Although it is located in the center of Tokyo, it almost stands alone as it is surrounded by a quiet and forested area. Coexisting with the surrounding skyscrapers and technology, these shrines peacefully stand frozen in time.
As far as observing the amazing skyscrapers, a simple walk throughout the city will provide you with amazing sights. But if you're looking for that ever important money shot, head over to the Tokyo Tower. Although its primary function is television and radio broadcasting, you can take an elevator to the upper deck which stands at 200m. Here you will find one of the most captivating sights around the world; a perfect view of the Tokyo skyline. Just remember to not look down!