Broadway musicals thrive and are closer than expected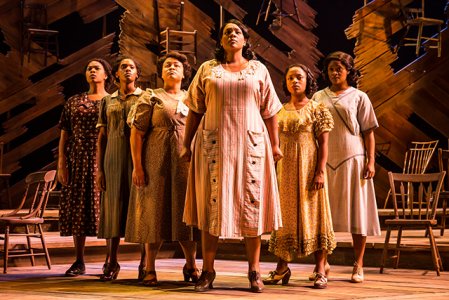 Today's musicals are more creative and engaging than ever before and according to Playbill.com, the official Broadway magazine for theater-goers, today's Broadway is performing in the platinum age of musicals.
Theater in Chicago offers up as much variety as its counterpart in New York. Hamilton, a revolutionary rap musical following the life of Alexander Hamilton, is currently running, and just opened up a new block of tickets from May 1- September 2, 2018.
During the Spring, Broadway in Chicago will host a number of popular musicals, including Pretty Women and On Your Feet, while featuring classics like The Sound of Music and Cinderella. Summer will bring some of the most popular musicals from New York theater, including Waitress, The Color Purple, and Dear Evan Hansen.
Broadway in Chicago isn't confined to one specific theater, but instead spans five different venues throughout the city. The CIBC Theater is within walking distance from the train station, and is where some of the most popular Chicago musicals are showcased, including Jersey Boys, Book of Mormon, and Hamilton.
Broadway Playhouse is another theater that was recently renovated, and reopened at Water Tower Place in 2010. This recent restoration, within the last decade, makes this theater the most newly reconstructed on our list.
The Cadillac Theater and Oriental Theater serve as stunning staples of Chicago theater history. Broadway in Chicago has a unique partnership with The Auditorium Theater of Roosevelt University, and is able to use it for-profit and not-for-profit sales.
In order to get the best view from any theater, check out Tripadvisor, or any similar review website to see where the best seats are. Whether it be the balcony, the mezzanine, or the dress circle, these reviews are your guide to a better viewing experience.
While Broadway musicals in Chicago are brilliant, most of the time they are undeniably expensive. However, there are some tips and tricks to get to see a show while saving money. Purchasing tickets months in advance of a show is a smart move, and there are definitely discounts to be found through websites like Playbill.com.
The Theatre Development Fund (TDF) Membership is also a guarantee at getting a chance at discount tickets. For a monthly fee, members get access to the cheapest tickets, even offering front row seat that normally cost hundreds of dollars for a prices as low as $50.
For those who like taking chances or getting an early start, there's lottery and rush tickets. Although entering in an online ticket raffle doesn't guarantee you a spot, it is a convenient way to look for tickets. Rush tickets offer discounts to those willing to stand in line before the show starts, on a first come-first serve system. There's also ticketing apps for your phone, like TodayTix, which can be a great way to score discount or resold tickets.
Musicals in Chicago are definitely accessible, and tickets are reasonable, but none of this information is useful if you aren't convinced that these musicals are worth seeing. I recently saw Hamilton at the CBIC Theater, and it was a phenomenal experience.
Admittedly, being a fan of the cast album and musicals in general, I may be a bit biased in Hamilton's favor, but hear me out. Just walking into the theater was a breathtaking experience. I made my way to my seat, craning my neck to take in the beauty of the ornate golden molding and rows of rich, red seats. The narrow aisles and slanted seats of the balcony added to the tight knit, intimate feel, even though it's a theater of a thousand.
From where I sat in the second row of balcony, I got a great bird's eye view of the stage, complete with its iconic turntable and rustic, colonial walkways. Even though I went into Hamilton already familiar the soundtrack, listening to it live was such a different experience. The band and performers added a layer of depth to the style and meaning of the songs. I had to keep reminding myself that it wasn't a recording, but was, in fact, live, even though the vocals and accompaniment were nearly flawless.
An exciting side effect of live musicals is the intensity of sound effects. During the revolutionary battles, you could feel the 'boom' of the resonating canon fire. This is not to go without mentioning Hamilton's creative and artistic lighting effects, living up to its Tony Award of Best Lighting Design.
A live performance also has the power of conveying emotions that a soundtrack can't quite compete with. I laughed at Hamilton's witty retorts, and cried at poignant ending. Chris Lee especially shone in his role as Thomas Jefferson, playing up the audience to a point where he had to motion to quiet us down.
Theater is an amazing experience that everyone should at least try. Give the gift of an unforgettable performance this holiday season with Broadway in Chicago tickets.