Gap year travel ignites passion for seeing the world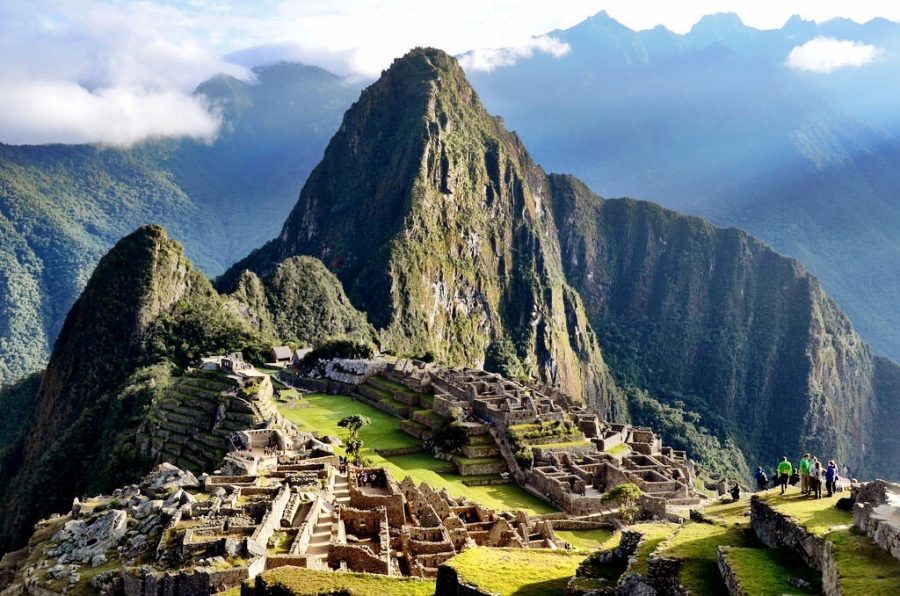 By Brandon Ahne, Staff Writer
October 30, 2017
You're about to graduate high school and you've already got your whole life planned out. Sure, there are lots of variables you still have to decide, but the blueprint is there. First, you go to a four-year university. Expensive is a gross understatement, and you'll be in debt, but it's what you have to do. It's what everyone does. You receive your degree. Depending on what field you decide on, maybe you continue your education further. Maybe not. Next, you get a job with that degree. You experience the real world. Eventually, you work your way up, get a promotion or two, and you make a comfortable living. Along the way you meet that significant other. You start a family. The 18-plus years after that are dedicated to raising your children. By the time they've grown up, your life has flashed before your eyes. You retire. You die.
Kayla Neuss, now 19, was on this exact path coming out of high school. Or at least she thought she was, until she realized she didn't want to follow the expectations placed upon her by others. She planned to attend Indiana University and had her whole life planned out.
"I wanted the super high education, the Ph.D., to work in a prestigious industry, a fancy house, a high paying job — all the things we are led to believe comes from college," Neuss said.
But she found herself burnt out by the time she graduated high school. She had invested time in countless extracurricular activities, over concentrated on her studies, and all while working a part time job. She began to contemplate this mold our society sets for people that inevitably had become her own. Neuss knew she wanted change, but didn't yet have a clear sense of direction.
At first, the change was small, as she abandoned her previous goal of a degree in Neuro and Behavioral Sciences.
"I started getting tired of the expectations this country has for young adults. So I began looking at other countries," Neuss explained. "I changed my path to International Studies and Anthropology. One that would take my focus off this country's expectations."
This would become the first step in a series of decisions that would dramatically change the course of Neuss's life. Soon after, she saw a video on Facebook. The video showed the "gap year experience," and encouraged young people to take a year off before college to travel and see the world. It peaked her interest, but Neuss had been trained to believe that she had to go to school. A gap year? It was just a crazy idea. It wouldn't be socially acceptable. But this crazy idea stuck in the back of her mind.
With her busy lifestyle, Neuss ended up missing her scholarship application deadlines for IU. Without a scholarship, she was forced to seriously reconsider her future. Neuss decided a gap year would be necessary from a financial standpoint, but subconsciously, she had other reasons as well.
"I used that as justification for not going to school until the following year. But really – I just didn't want to. School was always the most important thing to me- then it just wasn't," Neuss said. She decided to go all in on her gap year decision.
August 5th, 2016 was the day Neuss's plane landed in Thailand for her first trip. And as she described it, it was also the day her life changed forever. It was a month long trip through a program called "Volunteering and Solutions." Neuss explained the trip as a half volunteer, half travel program.
However, when Neuss first arrived, it wasn't exactly what she had expected.
"I was convinced that when I went to Thailand I wouldn't experience 'culture shock' because so many people say it's a great place to start international travel. So it shouldn't be too different right? Wrong. I stepped out of the airport and immediately wanted to go home for the next two days. The air smelt bad. It was dusty, dirty, and busy. They drove on the other side of the road. Basically everything was different," Neuss said.
"It wasn't until I took a tourist boat tour to the floating market and temples that I fell in love with all of it. The bad, the ugly, the falling apart– it all became amazingly unique. Everything was different. But everything was new, and that's what made it great. I fell in love."
Her trip began in Bangkok and moved through Surin, Koh Yai, and the island of Koh Phangan. Neuss enjoyed it because it touched all aspects of life. She worked with kids in an elementary school, worked on building and conservation, explored a national forest, (where she fondly remembers getting to hold scorpions and tarantulas) and lived in an elephant village where she helped to take care of the massive yet elegant creatures. She finished off the trip on what they called "party island" where she spent her time relaxing, snorkeling, and hiking mountains.
After her trip to Thailand, she had discovered a new sense of direction. She knew the type of life she wanted to live. Almost immediately after returning, she had already planned her next trip to Peru.
Neuss's next trip was another half volunteer and half travel program. The volunteering portion of the trip was an eye opening experience for her. She volunteered at Mother Theresa's, an institution for people with physical and mental disabilities. Here she helped in a physical therapy room, where she worked with young children.
Neuss remembers the perspective it gave her own life after seeing the conditions these children were in. "It was rough. During the first three weeks not a day would go by where I wouldn't walk home in tears." But she was determined to do everything she could to help, no matter how difficult the situation.
She had the weekends off from volunteer work, and this is when Neuss was able explore what Peru had to offer. She hiked Machu Pichu and Rainbow Mountain, visited salt mines and ancient ruins, flew over the Nazca Lines, went sand boarding in Huacachina, and even learned how to salsa dance. She made many close friends on the trip as well. Even with all of the things she was able to experience, Neuss says it still wasn't enough time and she wishes there had been more.
The final trip of her gap year was spent in South Africa where she spent the volunteering portion of her time teaching English to second grade children.
While Neuss thought she had been adventurous before, she says that this trip topped this list.
"I went sky diving, paragliding, and shark diving. I went on a safari, rode an ostrich, and pet a cheetah. I hiked the Table, Lion's Head, and Devil's Peak Mountains. I bungee jumped off the world's tallest bungee bridge, visited Nelson Mandala's prison, took a selfie with a seal, went to casinos and bars, and even visited a penguin beach," Neuss said.
South Africa was one of her favorite trips, as she was able to accomplish things she thought she'd never be able to do in a lifetime. She also had another trip during her gap year scheduled to Palestine, but due to fighting along the border with Israel she was forced to cancel for safety reasons.
Obviously, going on three different month long trips to countries around the world isn't cheap. So how was Neuss able to afford to travel to these places?
"I used my college money. I had about $12,000 in a savings account and I still have about $3,000. I was still living with my parents which cut down the cost of living and made my life easier. I also worked three jobs," said Neuss. "One was a part time job to work concessions for Northwestern games, but I worked on average 40 hours a week at McDonald's and 15 a week at Walgreens once I graduated high school."
Neuss also explains that an important part of her saving was budgeting her money wisely. She would often decide to not go out and eat with friends. She wouldn't buy the new shoes she wanted. She tried her best to not buy material objects and the things she didn't absolutely need.
"Absolutely. I love working and being busy, which helped. But [the trips] gave me a reason to work hard even when I was burning out. It wasn't easy and I didn't get much sleep, but it was more than worth it."
Neuss highly recommends traveling to anyone on the fence. She explains that the things you learn from traveling in a mere month will benefit you for a lifetime.
"There is so much that is impossible to understand about this world without traveling. There are so many amazing opportunities to enjoy life and push your own bounds."
As far as her future is concerned, Neuss doesn't expect to stop traveling anytime soon. Her "gap year" has now transitioned into a full-on lifestyle. She aims to take at least one large trip or two small trips out of the country every year for the rest of her life. Next on her list includes various places in Europe, Mexico, The Maldives, New Zealand, Cambodia, Australia, Fiji… to be frank, her planned future destinations were far too long to list. She wants to see every part of this world and experience everything it has to offer her. Besides traveling out of the country, she also plans to eventually visit all 50 states.
When talking of everything she has learned, Neuss believes she is a completely different person from the high school graduate who was ready to start college at Indiana University.
"I've definitely grown. I've become more mature, yet free spirited. My happiness, understanding, social skills, and 'daredevil-ness' have all drastically increased. I appreciate everything I have. I love more, worry less, and always forgive. I accomplish my goals, and I push my fears and boundaries. I care even more about helping everyone I can and the footprint I leave on this earth. I get one life. And I refuse to let that go to waste."