Workshop features paper clay artist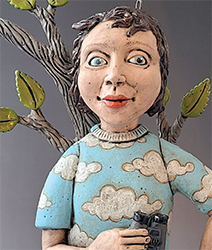 Cory McCrory is the featured artist aMCC's annual pottery workshop on Friday, April 21 and Saturday April 22 from 10 A.M.- 4:30 p.m. McCrory makes pottery from paper clay and this workshop will help people learn how she makes such beautiful art.
This two-day hands-on workshop will provide participants an opportunity to learn Cory's unique approach to forming and altering paper clay into hand-built dishes and sculptures. Cory will show how she manipulates clay by taking simple slabs and making them into great pieces of art.
McCrory went to Northwestern Connecticut Community College and Waubonsee Community College. She lives in Sandwich, Illinois. Cory has been working with clay for over 30 years. She started off as a thrower and then went to hand building. She likes the challenge that each piece provides as there are unlimited possibilities when working with clay.
The workshop will be in the MCC Pottery Studio, contact registration at MCC at (815) 455-8588 to reserve your spot. The cost is $80 per person and lunch is included. For more information visit https://www.mchenry.edu/events/2023/04/art-04-21.html