King of horror still writing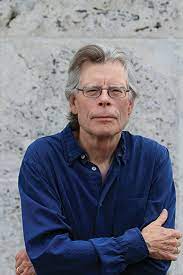 Stephen King is a very successful and famous writer, well known for all his successful horror stories and how consistently he comes out with them.
King was born on September 21, 1947 in Portland, Maine. He was the child of Donald King and Nellie Pillsbury, and he has an older brother named David. Later on in life he would marry Tabitha Spruce and have three children: Naomi, Owen, and Joe Hill. Stepehen King lives in Bangor, Maine with his family where he continues to write.
King's first book was "Carrie" in 1974 and it would turn out to be a huge success and it is all thanks to his wife. The story goes that Stephen King gave up on writing "Carrie" and decided to throw it out. Luckily, his wife dug it out of the trash, read it, and told King that he had to finish it. The book would later be adapted into a film in 1976 where it would see a lot of success.
Then he would go on and write 63 novels and over 200 short stories. He wrote  even more successful books like "IT," "The Stand," and "The Shinning." Most of King's books would also be adapted onto the big screen with over 50 film adaptations of novels, novellas, and short stories. Even though King has been known most for his horror stories, he has also written many books that are not part of that genre like "Rita Hayworth and the Shawshank Redemption," "The Green Mile," and "Billy Summers."
It is worth noting that in many of his books the protagonist is a writer and usually these writers are relatable to King and what he was going through. For example, in "The Shining," Jack Torrance is a writer that is an alcoholic. Another example would be in the book "Misery," where Paul Sheldon is taken hostage by a crazy woman because she wants Paul to write a character back into her favorite book series. The reason why this one is relatable to King is because he came out with a book that is for young adults and his fans did not like that at all. He compared the hate he got for writing that book to what Paul was going through in "Misery." King also wrote a book on his life called "Stephen King On Writing" and that is where I got all of this information on him. Stephen King has been a well-known author for a very long time, and he  still continues to write even at the age of 75.
Although Stephen King's life may have seemed pretty successful from an outsider's perspective, just a day with Stephen King back in the 1980s and 1990s show that he had a lot of demons and obstacles to overcome. His main demon was drug and alcohol addiction. He has said on numerous occasions that he did not remembered writing some of his books and he has also said that when he was writing his books earlier on in his career, he was a practicing alcoholic. Die-hard Stephen King fans say that they can tell when he was really deep in his drug addiction with books like "The Tommyknockers," "The Talisman," and "Cujo."
Another obstacle King had to overcome was that he got hit by a car in 1999. The accident was so bad that it almost killed King and he would not come out with another book for a while. King was still in the middle of writing his famous Dark Tower series and then after the accident he finished writing the rest of the series in under a year. King also helped make some movies and directed some movies but, none of those movies turned out to be successful. The most popular movie he has directed is "Maximum Overdrive," where pretty much every single machine on the planet is trying to kill humans. Unfortunately, this movie is popular for all of the wrong reasons. One reason why this movie is popular is because of the accident that happened on the set that made a man go blind. The other reason why this movie is so popular is because of how bad it is and how it might be one of those movies that are so bad that it is good.
Stephen King has shown time and time again that he is one of the best authors that has been writing thanks to all of his successful horror books. King is also a great example that being famous and having a lot of successful books might be cool until you realize what is really going on behind the scenes. However, even through the bad things King still finds a way to overcome the hurdles in front of him. Stephen King is living a happy life in Maine where he tweets about today's politics, world problems, and he is still writing new books every year.