Decision debate scars latest UFC battle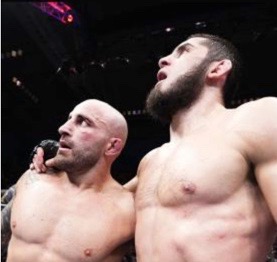 A couple of days removed from UFC 284 and that main event stirred up a lot of controversy online.
Alexander "The Great" Volkanovski challenged the lightweight champion Islam Makhachev to try to become the fifth ever UFC champion to hold two championships at the same time in two different weight classes.
This fight took place in Perth, Australia, and Volkanovski is from Australia so many thought he had the hometown advantage. However, Makhachev won by unanimous decision. Everyone who watched this fight knows that this was one of the greatest fights in UFC but there was one problem with it. The decision was very controversial, and people are still debating who won the fight to this day. There have been many controversial decisions in the UFC like Jon Jones vs. Dominick Reyes and Paddy Pimblett vs. Jared Gordon. This is not the first time people have debated who won a fight and it probably will not be the last.
People who think Volkanovski won the fight point to the fact that according to ESPN, statistically he landed the more significant strikes throughout the whole fight. That would be a decent argument but the only problem with is that the fight is judged by who won each round instead of judged throughout the whole fight.
People who thought Makhachev won the fight point to how even though he may not have landed the most strikes he landed the more impactful ones. They will also point to how Makhachev also took Volkanovski down in almost every round of the fight. However, when Makhachev took Volkanovski down he did not do anything to impact the fight in a major way and according to the judging criteria, the fighter that gets the takedown needs to attempt to finish the fight in some way. The fighter who gets the takedown cannot just hold the other fighter down for five minutes.
Two local fans have very different opinions on the main event. Brady Lautenschlager, who has been watching the UFC for about six years, thought Makhachev won the fight.
"He hurt Alex a ton with some really big shots," Brady Lautenschlager said. "I think Alex underestimated how good Islam was going to be in the striking department."
Another fan Matt Lautenschlager says he has been watching ever since the old days of Matt Hughes. Matt Lautenschlager said:  "Alex deserved to win that fight. He was probably a lot lighter than Islam; he had some really good moments in each round, and nobody really gave him a chance to win. Not to mention Alex also had a lot of success grappling with Islam which people also thought he was going to dominate Alex in."
Celebrities of mixed martial arts also joined in on the main event to discuss who they thought won the fight. Joe Rogan was livestreaming his reaction to the fight on his podcast and he thought Volkanovski won. Rogan was watching the fight with some of his friends, and they all felt that Volkanovski got robbed.
Former lightweight champion Khabib Nurmagomedov also chimed in with a social media post to congratulate his friend on his first title defense. "Simply the best" Nurmagomedov shared in a post. "Proved it in a hard, competitive fight against the best active fighter on the planet."
Shavkat Rakhmonov, who is a top welterweight, gave his thoughts on who won the fight as well. "It was a very good fight." Rakhmonov said in an interview with James Lynch. "Volkanovski showed that he is not an easy fight and Islam did what he could, and I think it was enough to get the decision."
Celebrities around the sport are almost as divided as the fans on who they thought won the main event at UFC 284.
There has been some new reports coming out of Alexander Volkanovski's camp saying that Islam Makhachev used an IV after his weight cut. Fighters use IVs after they cut a ton of weight so they can get some of their weight back easier. However, in Australia fighters cannot use an IV to help with the weight cut. Some places do not let fighters use IVs because they think fighters will put illegal substances in the IV. These are just accusations and right now there is no evidence showing that Makhachev used an IV in Australia.
The problem with these controversial decisions is that it takes away from the greatness of  the fight. This fight will go down as an all-time classic, but it will leave a sour taste in some people's mouths because of the end result. No matter who you thought won the fight, fans can agree that this fight will be in their minds and hearts for a long time.