Arts, Entertainment on campus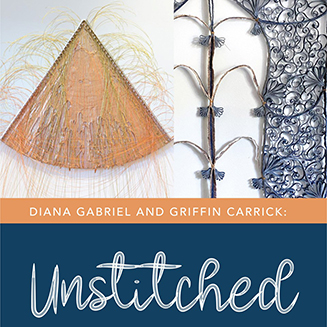 Faculty exhibit
Unstitched is a two-person exhibition featuring the works of Diana Gabriel and Griffin Carrick who are adjunct instructors at MCC. The exhibit runs from November 14-December 16 at the Epping Gallery across from the MCC Store. Unstitched is an examination of the traditional materials and an opportunity to look back at the materials of the past. To learn more about Diana Gabriel and Griffin Carrick go to https://www.mchenry.edu/artgallery/current.html  and if you want to see more of Diana Gabriel and Griffin Carrick work. You can go to www.dianapgabriel.com   and on Instagram @dianapgabriel. And to find out more about Griffin Carrick you can go to www.griffincarrickdesign.com 
— By Seth Rowe
Submission due for journal
"Voices – McHenry County College Literary/Art Journal" is accepting submissions for artwork, writings, or photography. All submissions are due on Dec. 1, 2022 both online and in person.
"Voices" has won many awards including the; Gold Crown Award (2021), first place in the American Scholastic Yearbook and magazine (2020), and Gold Medalist Critique with All-Columbian Honor.
Entry applications can be found on the here or on the following PDF.
For general questions email [email protected] or call 815-455-8552
— By Kyla Henige
Auditions for a twist on Shakespeare
Auditions coming up are for a new version of the classic love story, "Romeo & Juliet," adapted by faculty members Jay Geller and Ted Hazelgrove.  The gender roles in the story are reversed and in the reversed role, Juliet falls in love with Romeo, who is soon to marry the Countess Paris. There are roles for five men and twelve for women. The show will be directed by Geller. Auditions will be on Monday, December 12 and Wednesday, December 14 from 6-8 p.m. at the Black Box Theatre. First day of rehearsal is Wednesday, January 18. For more information, visit https://www.mchenry.edu/events/2022/12/theatre-12-12.html or contact Jay Geller at [email protected]
— By Zach Mears