McHenry's Tonyan a star with the Packers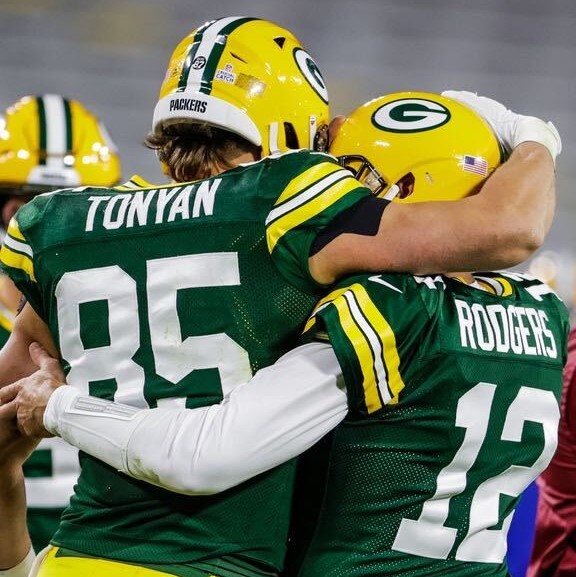 If you are reading this, there is a good chance that you have dreamt of being a professional athlete at some point or another. If not, you have likely had some other form of lofty dream that always seemed impossible. But some of those dreams really do come true, and sometimes we see them in our own community. Such is the case with Packers tight end and McHenry native, Robert Tonyan.
Tonyan started his football journey under center, playing quarterback through his entire high school career. In his two years at McHenry East, Tonyan collected 40 touchdowns and broke the Warriors' record for passing yards. After arriving at Indiana State, he began receiving passes instead of throwing them. With his lean 6-foot-5-inch frame, Tonyan quickly established himself as a natural for the new position, accumulating over 2,000 yards and 20 touchdowns in 34 college games. These numbers would not be enough to secure a selection at the NFL Draft, but he would find his way onto practice squads for the Lions and then the Packers in 2017.
Tonyan made the regular season roster for Green Bay in 2018 and 2019, but his role was minimal, with one touchdown  and 100 yards or less in each season. Then 2020 came, and his career took flight. Tonyan doubled his career touchdown total in the first three weeks, and then, on a Monday night in week four, Tonyan stepped up for an injured Packers' receiving core, putting up 98 yards and 3 touchdowns in a win over the Falcons. And just like that, the former McHenry quarterback was now in the national spotlight as one of the premiere tight ends in the game. By the end of the year, Tonyan amassed 11 touchdowns, tied with Travis Kelce for the league lead among NFL tight ends.
It's one thing just to make it on an NFL roster, making you one of only about 1,700 in any given year. It's a whole other thing to catch a baker's dozen touchdowns from one of the greatest quarterbacks in history, as he has up to this point. In an article from the Northwest Herald, Tonyan spoke about his connection with Aaron Rodgers.
"Growing up in our area, being a Bears fan and you get torched by Aaron Rodgers every time," Tonyan said. "The last couple years it's been like, 'I'm really in the huddle with Aaron Rodgers. This is crazy.' It's surreal… We have a good friendship. That's going to continue to build. I want him to count on me and rely on me in certain situations."
Even if you are a Bears fan as I am, it should be exciting to see a story like this unfold. You may have attended one of his schools. You may have been in the same room with him. You may even know some of the same people. And now, he is becoming a household name on one of the most historic sports teams in North America. He is one of the most trusted targets for one of the most prolific passers of our generation. He played in an NFC Championship where he scored a touchdown and shared the field with Tom Brady. Even if his career were to quickly fade away, Robert Tonyan has already lived a life that many of us have dreamt of for years.
This season, however, has yet to match the excitement of the 2020 campaign for Tonyan. The Packers started off their season with major disappointment, suffering a 38-3 beating from New Orleans. Tonyan received only two catches for eight yards in the opener. It was hard for the Green Bay faithful to spot any redeeming signs for the entire 60 minutes of play. A lot has to change moving forward if they are to get back on track, and perhaps Robert Tonyan can play a larger role than you may realize.
In an article he wrote for the Players' Tribune, Tonyan recalled a conversation with Davante Adams, one of the league's best wide receivers. After Tonyan's big game against Atlanta, in which Adams was sidelined with an injury, Adams told Tonyan that he wanted to see him continue acting like he did in that game. "Acting like you were unstoppable," Adams said describing Tonyan's big performance. "Like no one on the planet could stick with you. Knowing that you had reached another level. I need you to be like that. We all do. This team needs you to be like that every single game."
Maybe that really is what his team needs right now. Maybe this young man from McHenry has the ability and the attitude to pick his team up and get them where they need to be. If you bleed blue and orange like me, you may have a hard time rooting for the Green Bay Packers. But maybe you can root for a McHenry Warrior. Maybe Bears and Packers fans can find a common ground and root for our rising star to be the best that he can be. To be unstoppable.