Pop-punk surge features new faces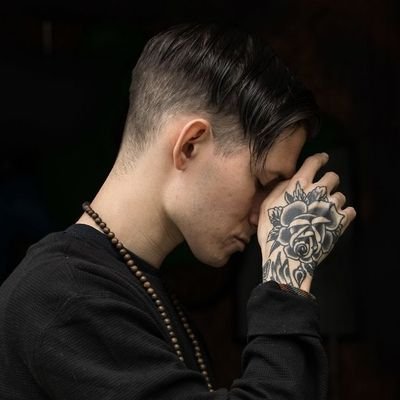 For a few years now, the trends of the past are becoming relevant again.
The trends of the '80s have seen a fair amount of resurgence with records, cassettes, and classic rock band t-shirts being just a few of the many trends that have made the rounds again.
Now make way for the '90s.
A lot of fashion trends from the '90s have come back lately. Many clothing brands have released clothes that allow their fans to do their best impersonations of the "Friends", "Freaks and Geeks," and "Fresh Prince" casts.
But clothing will not be our topic today.
Aside from fashion, there has been a resurgence of '90s/2000s pop-punk music in the mainstream. The stereotypical rebellious skater kid music that topped charts way back when is now taking flight once again.
There is speculation as to what made this genre see the light again. One can look toward artists that have recently passed away.
Artists such as Lil Peep, XXXTentacion, and Juice Wrld having more pop-punk inspired hip-hop songs released in their posthumous projects jump-started a new wave of fans.
Their new "emo-rap" style saw a trend of its own around the time these artists passed but has since evolved into a pop-punk surge.
The days of genre classics Blink 182, Sum 41, and Green Day seemed to be a distant memory for years. However, this resurgence has made way for some new faces, and some old.
New Faces
These artists have been some of the most popular in this resurgence, while also being faithful to the genre's past.
Nothing,nowhere: Fans of Nothing,nowhere will tell you that he has been on this trend since before it was cool, and they'd be right.
A solo artist who has a band tour with him, Nothing,nowhere has a discography of pop-punk and '90s hip-hop inspired music dating back to 2015.
He worked with Blink 182 drummer Travis Barker on his "Bloodlust" EP in 2019.
Though his newest release, "Trauma Factory," has been his big break.
Three songs off the album became some of his most streamed on Spotify. "Fake Friend," "Blood," and "Nightmare" all have eclipsed 5 million streams, the latter surpassing 9 million.
A new feature on the cover of "Alternative Press" magazine and over 1.7 million monthly listeners on Spotify, show Nothing,nowhere is seeing the fruits of his labor bloom.
Yungblud: To many people, Yungblud is the embodiment of a mid 2000s scene kid in the modern day.
They are not far off.
His image sets him apart from the rest. Not only looking like a '90s/2000s punk star, but writing music about rebelling and growing up gives him all the qualities of the musicians he  and others grew up idolizing.
Arguably the biggest name of any in this trend, Yungblud collects views and streams with ease.
He currently sits at just over 11 million monthly Spotify listeners, with all of his top 5 songs eclipsing 27 million streams, two of them passing 100 million.
Yungblud's rise to fame seems very rapid, with the past few years being very kind to him.
During this time, he has made music with Marshmello, Machine Gun Kelly, Denzel Curry, and mid 2000s supernova rock band, Bring Me The Horizon.
Machine Gun Kelly: Although he has been a rapper since his debut in 2012, Machine Gun Kelly has been making some rock inspired songs throughout his career.
He has songs with Kid Rock and Sleeping With Sirens singer, Kellin Quinn.
Some standout songs are "Let You Go," "27," and "I Think I'm OKAY," a song with the aforementioned Yungblud that has reached almost 150 million streams on Spotify.
This take could be seen as controversial because there is a belief that he stopped rapping after his feud with fellow rapper Eminem, in 2018.
However, he has been making rock inspired music his entire career, and has publicly said on his Twitter that he is just trying something new and is not leaving behind his rap roots.
His album "Hotel Diablo" saw Kelly use a lot more 2000s inspired rock than before. His song "Hollywood Whore" sounds like a song from an early Linkin Park album. And the previously mentioned "I Think I'm OKAY" is a modern rock anthem.
In 2019, he released yet another rock song entitled "Why Are You Here," which was loved around the current pop punk scene.
He then would announce his next album would be full rock/pop punk, set to release in 2020.
The album came out in September and is titled "Tickets To My Downfall," and was an instant hit.
His new album would skyrocket his popularity from genres outside just rap, while also peaking at  number one on the Billboard top 200.
Highlights of this album are the songs "Concert For Aliens," a pop-punk track taken straight from the late '90s, "Bloody Valentine," "Forget Me Too," and "Lonely."
Honorable Mentions: Some honorable mentions from the recent rise of this genre have been Blackbear, MOD Sun, POORSTACY, Kenny Hoopla, and Stand Atlantic.
Familiar Faces
Here are a couple of artists that were big names from the '90s and 2000s that have played a role in the resurgence of the scene.
Avril Lavine: Many remember Lavine from her hit tracks "Sk8r Boy," "Girlfriend," and "Complicated." But she has been making music with some of the new artists. Most recently, Lavine featured on MOD Sun's hit track "Flames."
Travis Barker: Barker has had arguably this biggest impact of the upward trend of this genre.
He has been working with hip-hop artists for years, transforming their music into more rock and pop punk influenced.
From his work on and off stage, playing in Blink 182 and producing music, Travis Barker has undoubtedly become one of the most recognized drummers in music today.
The number of artists he has worked with that have gained popularity recently shows that his body of work is surely no joke.
Pop Punk Never Left
With there being a new wave of mainstream popularity in pop punk, it makes people think that this genre was completely dead for years.
However, that is not the case.
Pop punk has had so many great bands keeping the genre alive for all those years, and a very loyal fanbase backing them.
Bands such as The Story So Far, Neck Deep, The Wonder Years, State Champs, and Knucklepuck have been at the forefront of this genre for years now.
The genre has always had a great following, and many popular festivals such as the Vans Warped Tour.
Although Warped Tour saw its last run in 2018, it has been confirmed that it will be returning in 2023 under a new owner, according to DeadPress.
For many fans, it is great to see their favorite genre regaining the recognition it once had in the mainstream. One can only hope this trend can continue, and not become another fading fad.