Charities provide extra support in pandemic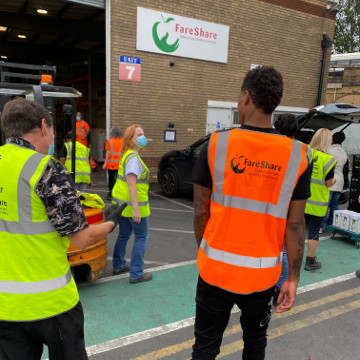 For the last year, the whole world has been affected by a pandemic called Covid-19, but no one has been affected as bad as people who were already in poverty. Thankfully, there are  humans who act like superheroes and like to help the unfortunate.
Locally in the Chicago area there are many charities that help the poor, but when it comes to during the pandemic the Greater Chicago Food Depository and its volunteers are there to help. Across the sea in England, Marcus Rashford a player for Manchester United and only 23, is helping kids who do not have enough to eat during the pandemic with a charity called FareShare. Both charities' volunteers enjoy helping the people in their own communities during hard times – they do not want to see families suffering during a really difficult time around the world.
Most of the time the people who do not donate to charities are the ones who never suffered economically, so they were used to having food. According to an article from thelifeyoucansave.org titled "Ten Reasons Why People Don't Donate to Charity" some reasons for people not donating include wanting to save money for themselves and families, thinking that donations are too small to make a difference, and believing poverty cannot be solved or donations do not actually help the ones in need.
According to Fareshare.org.uk, since March 2020 when Covid first hit, Rashford and his charity have gained enough money for FareShare to share more than 12.3 million meals for families who may not have food to eat. Rashford has also helped gain awareness toward child hunger in the UK. As for the Greater Chicago Food Depository, according to annualreport.chicagosfoodbank.org it has a long history and has provided up to 77.5 million meals to vulnerable families. For the people who do not donate, there are many ways to work around the excuses they want to use.
When people help others in need, they do it because maybe sometime during their life they were someone who was in need. For example, Rashford and his family were poor as kids and often had to rely on food banks. His mom was working a minimum wage job to maintain all her children, but it was not enough. On fareshare.org.uk he states: "the system was not built for families like mine to succeed, regardless of how hard my mum worked." Rashford does not want other kids and families to suffer as he did, so he donates much of the money he makes as a professional to FareShare, so they can keep bringing in trucks full of food for the unfortunate families .
According to Feeding America, more than 54 million people may experience food insecurity in 2020, including a potential 18 million children, because of the pandemic. Covid has caused millions of Americans to be insecure about food for their first time. When the pandemic first hit last March, many Americans were turning for help to food banks. Since many Americans lost their jobs, they had no way of producing income for their families, so that meant no food. Therefor, they would turn to food banks and charities for free food.
In an article on Manchester United's website, manunt.com, Rashford sent a letter to the British government stating: "make the U-turn and make protecting the lives of some of our most vulnerable a top priority." Following this letter, the UK Prime Minister replied with an implementation of the Covid summer food fund. This program promised that about 1.3 million children in England would receive a school-meal voucher over the summer, so they would not have to worry about not having food over the summer.
According to manunt.com as for Rashford, when the summer free school-meals voucher ended, he launched a petition asking the government to keep the voucher through the rest of the year. The petition lost in votes. This did not stop him from keeping up with the vulnerable children in England. Rashford will not stop encouraging other on social media to keep pushing the government to agree to helping the families with low income.
As for the Greater Chicago Food Depository, they will keep gaining volunteers, keep gaining donated food, and keep donating that food to people who most need it around the area. From chicagofoodbanks.com, they distribute food by soup kitchens who offer prepared meals, and mobile food distributions who help expand the reach of the charity.
Rashford is going to keep pushing to help low-income families in England and Greater Chicago Food Depository will keep helping people here in the Chicago area. Rashford will keep winning trophies on and off the field for what he has done during this pandemic. Both the athlete and charities work together for the same goal, and that is to end global food poverty.
To volunteer or donate visit https://www.chicagosfoodbank.org/get-involved/