Many are finding a full life with a home on wheels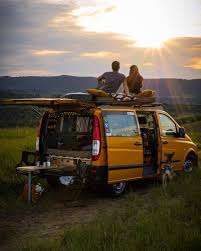 When you wake up in the morning, think of all the things you do to start your day. Walking downstairs to make a cup of coffee, taking a morning shower, and getting in your car to drive to work from nine to five. For most people having an everyday routine they stick to is typical, and going to work 40 hours a week is what they need to do to get by in their lives. However, there are some people who choose to ignore the norms of society and live the life they want in a rather unconventional way.
A lifestyle that goes beyond the common would be people who live in their vehicles, and travel the world for a living. These people have been referred to as "hippies" or "outcasts" for quite some time, but in 2020 they are just another group of people living their lives to the fullest.
Many people who live their life on wheels don't just get in their car and start traveling aimlessly. Rather, they renovate their vehicles in a way that makes it similar to a small home. Some of these vehicles even have bedrooms, mini kitchens, or bathrooms equipped with all of the necessities. They also have to prepare financially for their long trips, since it's nearly impossible to hold a regular job with this type of lifestyle.
Some people who have taken on what is being referred to now as "van life" are Francois and Emily, a young Canadian couple. Back in 2018, the couple was featured on the YouTube channel Exploring Alternatives. In their video, they talked about what led them to turn their van into a mini home on wheels. "We love being outdoors, we love traveling, and our home will always be with us," Emily stated in the video.
Francois and Emily's van features a bed, outlets, storage compartments, and a small kitchen area. The roof inside of the van is tall enough for the both of them to stand up in, but they are still slightly cramped for space. This does not seem to bother the couple, because their goal was to revert to a completely minimalist lifestyle.
Before their decision to move into van life, they lived in a small apartment. They quickly became overwhelmed with the amount of things they accumulated in such a short amount of time, and decided to get rid of most of their non-essential items. In the future they hope to buy land, where they can build an actual miniature home. For the time being the van will have to do, since it's quite a bit pricier to buy land and build a home that's not on wheels.
Now with an understanding of what van life consists of, we can look into how people juggle this lifestyle financially. There are multiple ways to make money either on the road, or simply by taking breaks throughout trips to work part time jobs and save up money.
Francois and Emily, for instance, have worked hard to save up money to hit the road in their newly renovated van. Francois states, "The plan is to be semi-retired by the age of 30. We want to do six months of work then six months off of work, that way it's more of a better balance." They don't know how this plan is going to work out for them, or what jobs they will come across while on the road. However, this is their ultimate goal and they're determined to make this plan work in order to support themselves financially.
Another person who has taken on making a home out of their van is Dean Unglert, age 28. Dean had the opportunity to share his love for traveling and van life, when he was on ABC's hit reality show "Bachelor in Paradise." Dean is able to travel wherever, and whenever he wishes to. His time on the show has allowed him to do so from a financial standpoint, because he became quite popular on social media shortly after his television appearances.
He makes his money through sponsorships from multiple companies, and advertises products. Dean and his girlfriend, Caelynn Miller-Keyes, 25, whom he met on the show are both considered social media influencers. Since they began dating they have gone on a large amount of trips together in Dean's van. They both enjoy photography, and showcase their amazing trips through posting photos and short video clips on their Instagram accounts, which have accumulated millions of followers. When asked why he wanted to take on mobile life and move into his van, Dean stated: "It was through that experience on the 'Bachelorette' that I learned there is more to life than an office grind of 50+ hours a week and I decided to see what that was."
Dean's van is set up similarly to Francois and Emily's van, it's equipped with all of the necessities. Although Dean's set up is a bit fancier, and includes a TV, a ladder that leads to the top of the van with an extra bed frame, and extra storage space. Dean has traveled all around the country in his van, and has done some pretty amazing things along the way. These activities include skydiving, hiking, rock climbing, cliff diving, and many other thrills while on the road. Dean has no plans to stop the van life anytime soon, and he's inspiring others interested in doing the same to get out there and do it!
There are clearly many people who have been actively engaging in this lifestyle for a while now, but there are even more people who wish to start their van life. Amanda Gallagher, 27, and her boyfriend Joe Fanella, 28, are both in the occupation of property management. For their jobs, they have to travel a lot to different parts of the country.
They lived in Denver, Colorado from 2017-2019 before moving back to their hometown of Johnsburg, Illinois, back in March. In Colorado they got to see and do so many things that they've always wanted to. Hiking, sightseeing, going in hot springs and so many more outdoor activities. After living in Colorado and traveling for work, Amanda and Joe became interested in pursuing van life.
"We would love to look more into creating a little home on wheels," Amanda said. "Traveling and being outdoors is something we both enjoy so much, and it would be a fun challenge to try something so different like this. Personally I would be interested in buying a van and traveling for a while, hopefully this is something we can pursue within a few years."
Amanda and Joe don't have an exact plan for when or how they are going to join this trend of van life. Nevertheless, they are excited to look more into what it is like to live life on wheels.