A true tale of surviving Covid-19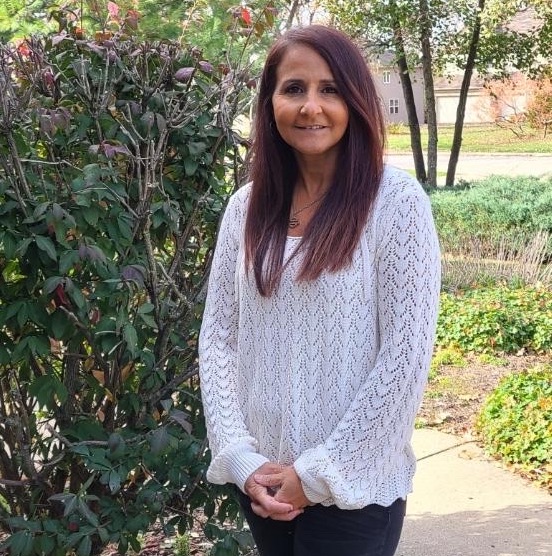 After a long day of work on her feet, Julie Salens comes home to the smell of fresh linen and a bright, euphoric environment. A warm cup of coffee is freshly brewed and homemade chicken soup is ready for dinner. As she winds down and gets herself ready for bed, she said: "I have always been happy to come home after a long successful day and I am always excited for the next day of work to come."
The Coronavirus pandemic has been horribly affecting people and the home life of individuals across the world. Salens, a 50-year-old business owner and hair dresser in Huntley, has been devastatingly affected first hand by the destructive disease. One gloomy early morning, the sky lit up vastly by streetlights, woke Salens who was having chest pain and body aches that prevented her from removing herself from the delicate mattress. In a dreary and infected world, life is nothing but hard to come back to when this noxious disease hits the home of an individual.
As the next morning came and the sun crept up behind the dark clouds, Salens was awaken by the pain she felt throughout her entire body. As she struggled to put her dark hair in a ponytail, her deep brown eyes focused on the white walls of her bedroom. With a pounding headache and aches that hamper her capabilities of everyday life, she began to panic. "I instantly grew concerned about the illness that I was feeling and my heart began to beat through my chest," she said, "I was afraid to go to the doctor."
In pain and through panic, Salens finally called the doctor and asked for careful instruction. The doctor instructed her to get tested locally and wait patiently for the results. As she struggled to get off of her bed, she pulled herself to the bathroom where her olive colored skin was now looking feverish. She slowly changed into a baby blue sweatshirt and black velour sweatpants. "It was almost impossible to move without pain. I am 50 years old and that morning I felt as if I was 90."
Holding back tears, Salens finally made it to her driveway and managed to crawl into her black Mercedes SUV. The faint smell of her grape air freshener filled her nose as she drove frantically to the health facility for coronavirus testing. Upon arriving, she saw a line of cars wrapped around the entire building, waiting for swab tests. A healthcare provider approached her vehicle wearing a hazmat suit and a face shield while carrying a clipboard of paperwork. "I looked at this woman in the eyes and warned her not to get close. I mean I had to, in all the years I have been here, I have never been as sick as I was in this moment," Salens said. She filled out paperwork according to instruction and waited nervously for the test.
Scrolling through Facebook, she began to heat up and sweat profusely and she opened the window for fresh air. The dark sky shadowed her face and she began to get both dizzy and lightheaded. Her vision blurred with dark spots and as she felt she was going to faint, a woman with a test approached her vehicle. The swab was pushed far up her nasal cavity, promoting harsh pain but within seconds, she is clear to head home. Salens said: "The test was definitely painful but between the body and head pain that I was already going through, I would rather feel that nose swab a million other times."
Her drive home was fuzzy due to her erratic thoughts clouding her actions. The streetlights illuminated the quiet and empty town as she pulled into her driveway. "I had never felt so comfortable at home before until I had thought about my husband and the dogs," she said. "I had no idea how this disease works and I wanted nothing more than the people around me to not feel this pain." When her husband was made aware of the potential of the situation, he moved his belongings into the basement and called her when she was clear to enter the house. "The rest of that night was all a blur to me. I could not tell you if I ate or how I made it to my room, but somehow I had."
Salens woke the next morning to her phone ringing and it was her rapid test results. She was positive for coronavirus. Her thoughts spun around through her head and as she came out of the daze, she had a very hard time breathing, moving, and her chest felt as if someone was standing on it. "I called an ambulance, I had no idea what to do. All I knew in that moment was that I needed help breathing."
Arriving at the hospital, they rushed her on a stretcher through the bright hallways of the hospital and into a cold and stagnant room. The white walls and the mauve colored curtains created an eerie feeling. The small TV lay blank as they propped her up for comfort and put her on a respirator. "That night, I could not sleep. I was in so much pain and I was afraid that if I had fallen asleep, that I would not  have seen the light of a new day."
Salens spent six days in the hospital. She said: "I remember very little of this time. All I remember are the sweet voices of different nurses and the bright white lights in the room that made it impossible for me to open my eyes." When it was time for her to get up and leave the hospital, she felt like a new person. She stood up swiftly and leaned over and rested her hands on the edge of the bed as tears of happiness streamed down her healthy skin. "I could not believe I made it out of there alive," she said. "I still thank God until this day for watching over me and for saving me."