Tennis star is athlete of the month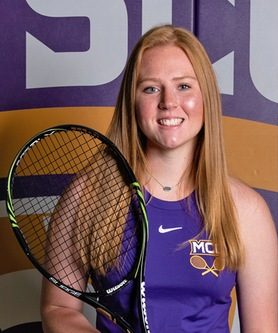 Morgann Paaske is the MCC September Student-Athlete of the Month. The Crystal Lake Central High School graduate is a sophomore on the Women's Tennis team and Softball team. She was a major reason for the tennis team going undefeated last year and qualifying for the NJCAA National Tournament.
Her softball season was cut short last spring but she  is planning on continuing her juggle of both sports. This tennis season she has won her first four singles matches, as well as her first four doubles matches in the month of September.
Paaske also carries a high GPA while balancing her time with tennis and softball, earning Academic All-Conference and NJCAA Academic All-American honors. She plans on graduating in May with an associate in science degree and attending the University of Wisconsin-Platteville next fall.
"Morgann is one of our leaders, her infectious laugh is contagious and is loved by her teammates," said tennis coach Jim Stockwell.  "As her coach, I admire her work ethic and fiery spirit, but as her professor — she has enrolled in two of my classes — she has a strong commitment to her academics with a deep desire to consistently improve. She is truly a wonderful example of a student-athlete."