Grandmother in Italy shares lockdown life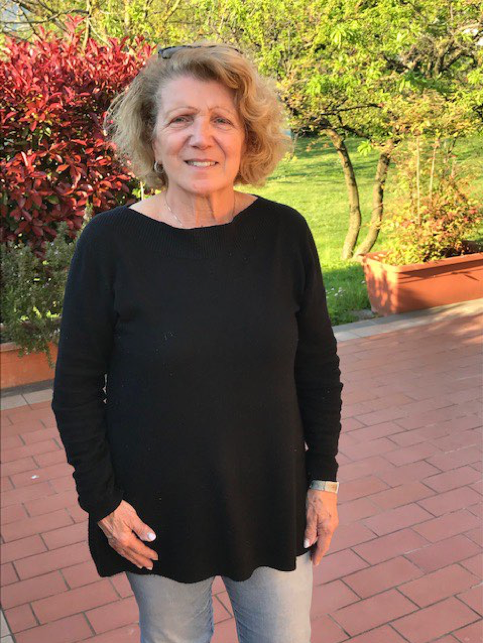 By Jonathan Manuel, Staff Writer
April 21, 2020
The world we are currently living in is certainly one of great fear and anxiety with many unknowns due to this Coronavirus pandemic that has rocked our planet. Many people have had their lives affected by this pandemic and the efforts of governments to stop it. One such person is my grandmother, Bruna Diodati Pacini who lives in Italy.
My grandmother is a 70-year-old retired widow (her husband, my grandfather, passed away in 2015) and in all aspects is the normal Italian Nonna. She stands at roughly 5-feet-4 and has short blonde hair, is very kind and caring but has a very fiery personality and is fiercely protective of her family. One of her biggest strengths besides her caring and protective nature is her cooking second only to my great grandmother which is worthy of being served in a five-star restaurant.
Q. Tell me a bit about yourself and what your life was like before the pandemic hit Italy.
A. I am 70 years old as you know, and I am currently retired and living in Italy. I specifically live in Tuscany in the province of Lucca in a tow called Lammari. Before the pandemic hit and we were placed under lockdown my daily routine consisted of waking up and doing work around the house mainly cleaning and then I would go out and run errand such as going to the grocery store and getting my hair done for example. I would also maybe 3 to 4 times a week go out to breakfast with my mother and brother at a local café. In the afternoon I would usually go to Lucca for business or sometimes to shop. I would also visit my son and daughter in law in Capannori at their apartment.
Q. When did the virus first get reported in Italy and what was the reaction from the government?
A. The virus was first reported in Italy around January 31st and the first Italian case followed shortly after that which was a man who was doing a book tour and had recently returned from China. The first cases started up north and as they increased the Government tried to contain it but failed as when the government gave a stay at home order for the North people treated it as a vacation and left to go skiing and to the beaches as well as took plane and train trips to the south of Italy and Sicily which spread the virus. After this failed attempt the government decided on March 8th to call for a complete national lockdown and quarantine which was approved on the 9th of March and put into effect on March 10th with an end date of April 13th. This however now has been pushed back to May 3rd which will likely be extended as well. As of now the return to work is July 31st.
Q. How has your life been impacted by the ongoing pandemic and the national lockdown in Italy?
 A. Since the lockdown started, I have not been able to go out for breakfast or run many of my errands and business trips. I have been mostly stuck at home and can't really see anyone except my mother and my brother. I have started having lunch and dinner with them and taking walks around our so-called compound as we own a lot of land. I really have not left the compound except for the once a week shopping trip that I do every week. I have also been unable to see my son Massimo and my daughter-in-law Monica, who is pregnant, since February as he lives in another town and traveling between towns is banned (there are police and military checkpoints to enforce this). As part of this I have also been unable to conduct business at the bank and have been forced to use an online system which does not work at all. Overall, though staying at5 home really doesn't bother me too much.
Q. What changes have you seen around you that have happened since the total quarantine and lockdown happened?
A. There has been many changes in Italy that are very noticeable, for example now in order to go to the grocery store and shop you must be wearing a mask and gloves and stay 6 feet away from your fellow shoppers and the store staff at all times, and there can only be one person per car per household shopping at once. If you do not adhere to these stipulations, you will be denied service. Also, another example is that now in order to go out and drive places like work and go hopping you must have a written and signed self-declaration of where you are going in case the police stops you, if they do stop you they will take this self-declaration and keep it so you must write another one if they take it. They will also call the place you said you were going, work for example to see if you were lying or not. If you were found to be lying, they will then fine you between €400 and €4000, you could also be subject to arrest and conviction. Another thing I have seen is that like many places only the minimum essential services are open, everything else is closed all over Italy and will be closed until July 31st at the earliest.
Q. How have you been coping with the pandemic and its effects, and have you had any interesting or funny experiences?
A. I have been coping pretty well overall, I've just been relaxing and visiting my family more, they live in the same compound as I do. I also have been taking walks around the compound and working on gardening and upkeep for the house which has certainly kept me very busy. I also have been using Facetime and Facebook more to connect with my family that I cannot see due to the restrictions. Funny experience wise I actually had one happen a couple days ago, it scared me quite a bit. I was walking to my house from my mothers house in our compound and a Carabinieri car drove past and stopped just in front of the gate, I thought they were going to come in and arrest or fine me but they just slowly drove past and turned the corner and left. After discussing it with my son who was laughing at me, I realized that they were probably just making sure I made it home and were just observing.
Q. As a final question what would your biggest fear and greatest hope in this time of uncertainty be?
A. I think my biggest fear right now is that my family will catch the virus and that I will not be able to see them for a long time. I also fear just how bad the virus will get here. However, I am hopeful based on recent statements by the Italian government that we are slowly coming out of the worst of this and that we can all return to our normal lives quickly and soon and that this virus goes away.