Volleyball star is athlete of the month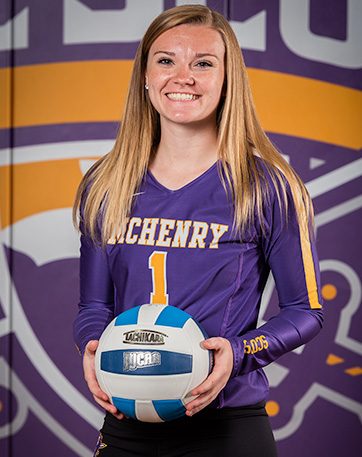 Kimmy Hammond, a sophomore volleyball player at MCC has earned Student-Athlete of the Month for October.
The Johnsburg high school graduate has accomplished big things for herself and the Scots.  She is ranked third in the nation in total digs at 587 and sixth in nation for digs/set at 6.2. Hammond is at 1,547 career digs, a high honor for her efforts.
Head coach Kyle McCall gushes over Hammond as a player and her skills, saying: "Kimmy is one of the best defenders I have ever coached. She works hard on the court and in the classroom. She will do big things wherever she goes next."
Kimmy's efforts have gone beyond the court, she has earned Academic All-Conference honors and is on course to attain the honor again this year. With the double threat of national rankings on the court and academic all-conference honors, there is no say as to what Hammond cannot accomplish. Director of Athletics Karen Wiley says: "We are proud to have an area student-athlete represent so well through our program and department." Congratulations to Kimmy Hammond, student athlete for October, 2019.