Vaping controversy sparks laws, suits, fears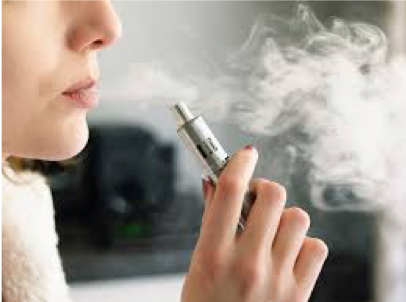 Vaping has been around since the early 2000s, invented as a tool to help smokers to cut back on smoking cigarettes and to break the bad habit. According to CASAA, the first ever electronic cigarette, or what is now known as e-cigs, was invented and created in Beijing, China by Hon Link, a 52 year old pharmacist and former smoker, who created the e-cig after his father died of lung cancer. The original purpose for these e-cigs was designed to help those who were already heavy users of nicotine and tobacco products to cut back with the use of these vaping tools. But what is now the case, is millions of users are turning their heads, and wallets, toward these sweet scented and flavored nicotine devices.
Within the past few years, e-cigs and vapes have skyrocketed in sales and production. According to the BBC, with eleven million users of vaping products in 2011, jumping to over forty-one million users in 2018, it is no surprise how popular and common the use of vaping has become this century. While these devices were originally designed and marketed to smoke user-friendly adults, the advertisement of flavored vape juices, such as strawberry, watermelon, fruit punch, cotton candy, and other enticing flavors, are catching the attention of young people who enjoy these flavors.
While most large vape companies say their targeted audience and consumers are adults, there is speculation as to whom these advertisements and devices are appealing. This epidemic, is convincing millions of young teens and adults to be addicted to vaping, causing many problems; It is no wonder why the youth are attracted to these sweet smelling and tasting clouds. One person cannot go onto social media without seeing thousands of teens and young adults hitting their Juuls with friends, and making vaping a social norm.
The dangers of these vape products is what is catching the attention of the world. Within the past few months, there have been multiple cases of vape related illnesses. According to KTLA news, more than five hundred cases have been diagnosed with vaping-linked lung diseases, and over eight lives in the U.S have been claimed by this dangerous epidemic. But what is not known are the causes vaping has on the health of users.
Shannon Trocki, a local mother and nurse practitioner at Lake County Health Department, says vaping is not healthier than smoking, which was a common myth millions have heard before about the safety of vaping over cigarettes.
While cigarettes are still dangerous and addictive tools, "cigarettes are FDA approved, whereas vapes are not approved by the government or any health departments. Meaning there is no saying as to what is going into vapes, and the bodies of millions who vape," Trocki said.
There is still no scientific research  that proves the reasons and causes of these deaths, and the numbers of cases continue to rise daily. What used to be a new fad, is becoming a dangerous and serious health risk to vapers.
Recently five Illinois young people filed a federal lawsuit against Juul. According to the Chicago Tribune, the suit — filed by Tiffany Marie Teubert of Crystal Lake, Kyle Ardelean of Lincolnwood, Kadin Bowling of Chicago,  Carter Matthew Bumbalough of Pekin, and Sirenidy Perez of Carlinville – alleges that  the company's marketing tactics got them hooked on nicotine and caused them health problems.
The United States, along with other countries, are taking action against this growing epidemic and have made suggestions to pass laws that will ban flavored e-cigs. Along with the protests, there are major companies such as Walmart who have banned selling any vape related products in their stores. These decisions are continuing to reach across the country, with Michigan to be the first state to ban flavored e-cigs completely. Whether these actions will result in any positive changes, the hope is that people will start to abandon vape pens and vaping all together, for a healthier and smoke free world.