Devil's Lake is worth the visit any season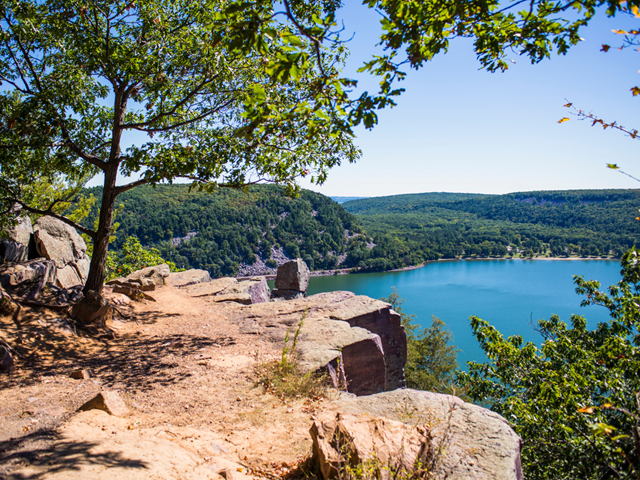 By Julia Bussa, Staff Writer
August 26, 2019
A favorite place or an activity to enjoy is visiting Devil's Lake State Park. Devil's Lake State Park is a state park that is located in the Baraboo Range in eastern Sauk County and is just south of Baraboo, Wisconsin. The state park is also known for being the biggest state park in Wisconsin.
Devil's Lake State Park is open year round. They are open from 6 a.m.-11 p.m. The Concessions and Nature Center hours also vary season to season. To access the state park Wisconsin State Parks do require admission stickers for any vehicles parked within the property. Annual admission stickers cost $28 for Wisconsin residents or $38 for non-residents. There are also daily pass rates that vary from park to park. At Devil's Lake State Park the daily rates are $13 for residents or $16 for non-residents.
Devil's Lake State Park in Baraboo, Wisconsin  — from Crystal Lake it is a 2 hour and 35 minute drive. It is a little bit of a drive but it is well worth everything that they have to offer.
Some activities at Devil's Lake State Park include camping, hiking, swimming, biking, shelter rentals, Nature Center & Programs, rock climbing and bouldering, boating/canoe/kayak, wildlife & bird watching, fishing, hunting, scuba diving, skiing, snowshoeing, and sledding. My favorite activity at this state park is hiking. Devil's Lake State Park has multiple trails spread out across the park that vary in difficulty. It is a fun activity to do with your family and a great way to be active. All the trails at this state park have beautiful sights and scenery that are well worth the hikes. A popular activity that most visitors enjoy is camping. Reservations for camping at Devil's Lake State Park can be made up to 11 months ahead. Most campers take advantage of reserving a spot in the state park because it is popular. There are only 10 non-reservable campsites and most campgrounds are full on most weekends and often throughout the week as well.
I suggest visiting Devil's Lake State Park because it is a great way of being outdoors during any season. Anyone can attend and it is fun for families, getting a group of friends together, or just going on a hike by yourself!
For more information visit https: https://www.devilslakewisconsin.com/