Hiking is a a perfect Fall activity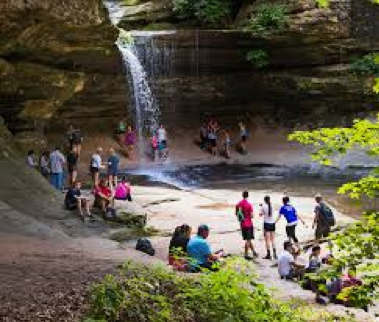 As Fall moves in one great outdoor activity is hiking. You can experience  beautiful scenery and get some good exercise. There is something about being disconnected to social media and connecting with people and nature that really is quite wonderful.
Around us, there are two areas that you have to visit: Starved Rock State Park and Devil's Lake State Park. Both places are great options to visit when you are looking for a fun adventure.
Starved Rock National Park is located about one hour and forty-seven minutes from MCC's campus. It is a longer drive, but it is definitely worth it. Starved Rock is located in North Utica, Illinois and it is actually about ten minutes away from Matthiessen State Park; it really is two trips in one. Starved Rock is known for its steep canyons and beautiful waterfalls. It really is the most beautiful background for any picture. There are various trails that you can take, so there is no such thing as a wrong turn.
My absolute favorite hiking spot is Devil's Lake State Park. Devil's Lake is for those that enjoy heights and a beautiful long distance view. (See related story above.) It is a rocky trail, often can be a challenging way up, but once you reach the top, it is breathtaking. Devil's Lake is located in Baraboo, Wisconsin, two hours and twenty minutes away from campus. It is the biggest state park in Wisconsin and is constantly filled with people. Both places are incredible and filled with gorgeous scenery. If you consider making the trip, always remember to bring lots of water, some food to enjoy in their picnic areas, and sunscreen!