Student athletes earn accolades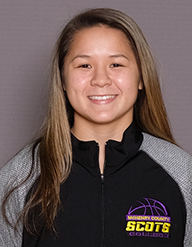 McKaylie Krey in her sophomore season was named the NJCAA Region IV Division L Athlete of the year for Women's Basketball. Krey has led the Scots to an 22-10 record overall and 9-5 in conference play.
Krey a 5'6″ point guard has averaged 8.4 points per-game with 3.5 assists and 4.2 rebounds. Krey has shot 32% from the field and has shot 33% from beyond the 3-point arc. Krey was solid from the free throw-line shooting 59%.
McKaylie Krey was also named to the 2019 Region IV Division II District L All-Region Team and is an All-American nominee.
MCC's women's basketball coach Karen Wiley said: "Krey has been a vital piece to our team success this year. Being point guard takes a great deal of responsibility. She leads with a quiet calm and confidence. Her quickness, defensive tenacity and strength makes for difficult match-ups for opponents. I feel fortunate to have been her coach for the last two years."
— By Neal Klepitsch
Student athlete of the month
Congratulations to the February 2019 Student Athlete of the Month,Alec St. Pierre.
St. Pierre, a 5'11″ sophomore received high praise from athletic director, Karen Wiley: "Alec has been a driving force in the great improvements of our men's basketball program on the court and in the classroom. We are happy we could be a part of Alec's foundation for future successes."
Averaging 16 points per game, Alec shot 45% from 3 point land and 90% from the line. Paving the way for his teammates and future Scots, he has earned every minute of playing time. Assistant Coach Ryan Skinner seconds this saying, "Alec played a large part of our team's success this year on and of the court. Not only is Alec great on the court, he is a tremendous teammate and student. We feel very lucky to have had Alec as part of our program the past two years. He has laid the groundwork for future teams."
St. Pierre is uncertain what the future holds for him, but he is planning on continuing his education and playing career and we wish him all the best.
— By Matthew Petrovitch