True fans know the true value of an autograph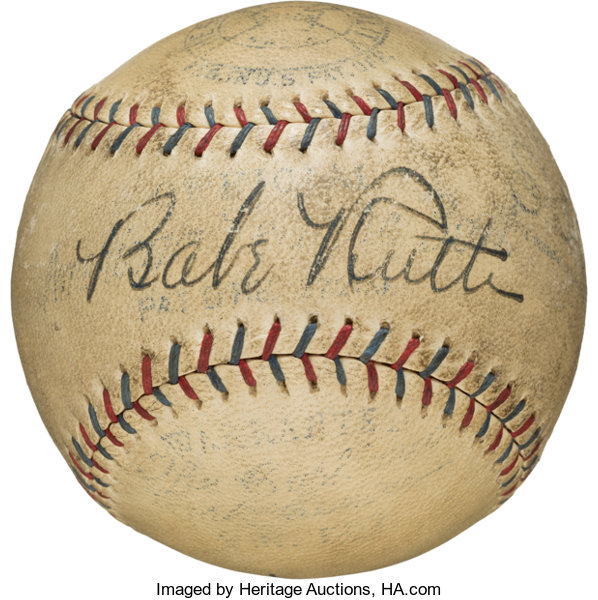 $388,375. That is the price of a Babe Ruth signed baseball. One of the most expensive baseballs ever sold. $15,000. The starting price for a Jackie Robinson signed baseball. $2,400. The price of a signed photo by the entire 2016 World Series Champion Chicago Cubs team. $9.8 million. This is the price of a George Washington signed Act's of Congress.
Autographs are one of Americans favorite items. From getting your favorite athlete to your favorite actor to the President of the United States, people love autographs. For some its more than something to frame, it's a job. For others it is a piece of memorabilia that will only move to be dusted. But for all, it's a story that will be told forever.
Show up early to any sporting event and you will see the same thing. The edge of the field lined up with fans waiting for an opportunity to meet their favorite player and get a chance to get an autograph. I am one of those people. But no, I don't sell my autographs, I collect them and couldn't care less what they are worth. It is the thrill of getting an autograph, the story I will be able to tell forever, and just the excitement of being able to say "hey, I have that guys autograph."
MCC student Matthew Petrovitch, a lifelong Pittsburgh Pirates fan shares that same sentiment. As a Pirates fan one autograph he always wanted was closer Jason Grilli. "Grilli was my guy. I did whatever it took to get his autograph. I kept yelling "Grilli! Grilli!" until he finally gave in and came over to sign for me," said Petrovitch. "I remember at the time he was injured, and I wished him to get better. He seemed to genuinely appreciate that and it meant a lot for me to have that moment."
With all that said though, how do I get an autograph? What do I get signed? And, what is the point of an autograph?
Well, let me introduce myself. I am a huge sports fan. For as long as I can remember I have been playing and watching sports. My favorite sports are baseball and football. I played baseball since I was able to walk and have studied the game since I could spell. My football experience has been very similar to my baseball one. I have hundreds of autographs that range from top picks to total busts, MVP's to rotational players, outfielders to quarterbacks, and pitchers to Pro Bowl defensive lineman.
My favorite autographs include MVP Kris Bryant, World Series MVP Ben Zobrist, Cy-Young award winner Jake Arrieta, all-stars Anthony Rizzo, Javier Baez, Willson Contreras, and World Series champions Albert Almora, Kyle Schwarber, Carl Edwards Jr., Chris Coghlan, Jorge Soler, and Mike Montgomery. Oh yeah that is just one team. My autograph collection also includes Theo Epstein, Frank Thomas, Bo Jackson, Ernie Banks, Ron Santo, Ryne Sandberg, Derrek Lee, Carlos Zambrano, Carlos Correa, Alex Bregman, Jose Abreu, Mitch Trubisky, Akiem Hicks, Kyle Fuller, Jay Cutler, and Damian Lillard. That is just a glimpse into my collection.
But I would never sell one of my autographs and I don't care what the value of any of them are. I care about the story. I can tell you where I got almost all my autographs, I can tell you what I got them autographed on, I can tell you what the weather was like when I got the autographs, and I can tell you the story of how I got every single autograph.
How I got those autographs is what makes the stories so much fun. I have never paid for an autograph in my life. I have planned it out or just been at the right place at the right time. I go to baseball games that range from MLB to Low-Class A ball where the players are usually three years from making the majors. I go to conventions and training camps and scope out the players and attempt to get their autograph.
What I get signed is a range of things. My favorite item to get signed is a player's card. Their card is everything. It has their whole career and life on it from their stats to their hometown. It is the players story on 2.5 in X 3.5 in piece of paperboard. It has their photo on it which is what makes getting them signed so enjoyable. There is only one person who can sign that card, the player themselves. It is also what makes getting them signed so easy. If you are asking someone for an autograph and it has their name and face on it, they are more likely to sign it. Why? They know that the card is specifically for them and you brought the card for them.
Other items to get signed vary, it depends on the sport and the person. A popular baseball item is a baseball, if you are getting the managers autograph, they sign the sweet spot. The sweet spot is the middle of the ball between the seams. Other items include baseball bats, gloves, and programs. For football the most common item is a football. But for everyone in every sport there is always either a card of theirs out there or a photo of them. The oddest item I have seen someone get signed is a boot. A young man asked Chicago Cubs owner Tom Ricketts to sign his boot. But he had a great reason. It was the boot he wore to Cleveland to see the Cubs play in the 2016 World Series. It was an odd item, but that man has an awesome and unique story.
The whole point of an autograph is up to each person, some people just like to be like everyone else and get an autograph. Others do it for money but for the true diehard fans out there it is for the excitement. They work hard for their autographs and treasure them. It is their favorite team and favorite player that they are getting to autograph an item, it means something to them. It makes the bond they feel with their team closer, it makes their love for the sport greater, and it gives them a story to tell for life.
My personal favorite autograph is a signed ticket by Chicago Cubs pitcher Carlos Zambrano. It was a ticket to his no-hitter in Milwaukee against the Houston Astros on September 14, 2008. This game was unique, because of Hurricane Katrina ravishing the South and Southwest the game originally scheduled to be played in Houston was moved to a neutral site. The day of the game my father was lucky to get tickets for us. In the history of Major League Baseball, they have played over 217,000 games but there have been only 299 no-hitters, and I was lucky enough to be at one. Nine years later, on a cold January Saturday in Downtown Chicago, I was attending the annual Cubs Convention. Attending for the first time since his playing days for the Cubs were over, Carlos Zambrano was in attendance. After the ending of a panel Carlos was on, I was able to track him down and have him autograph my ticket for that game. It was an experience I will never forget, and it is a story I will never stop telling.
Autographs are a fun aspect of professional sports. For most they never get a chance to experience the thrills I have to this point in my life. But if you are determined and truly love the sport and your team, attempting to get an autograph is a must. The autograph is great and something you will treasure forever but the best part is the story you will be able to tell. The story is what makes the autograph great and keeps fans coming back and attempting to get more every game they attend.