Disney World's magic more magical during the holidays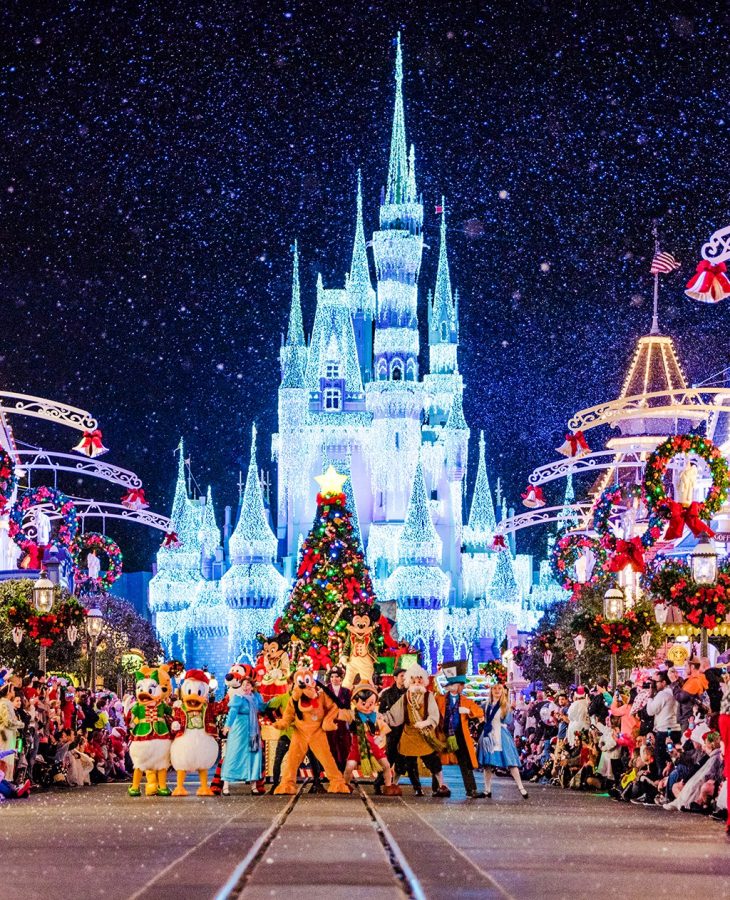 The most magical place on earth has found new ways to incorporate even more magic. Disney World in Orlando, Florida is probably the place of a fond childhood memory or two, or at least holds some childlike impression of awe and wonder. However, Disney World isn't just for kids. Recent updates and additions have made it an even more adult friendly place to vacation. It also features some of the best annual holiday traditions.
Disney World is comprised of four parks, two water parks, more than 25 hotels, and a shopping area, making it 40 square miles of fun. It's four parks are:
Magic Kingdom: the most iconic Disney World park that is home to Cinderella's Castle and shops on Main Street, U.S.A., along with five other themed 'lands' (Tomorrowland, Fantasyland, Frontierland, Liberty Square and Adventureland)
Epcot: includes Future World and World Showcase, situated around the World Showcase Lagoon, where you can travel around the world to 11 different countries
Hollywood Studios: Stores and restaurants have an old-timey Hollywood feel, and thrill-seekers can ride the Tower of Terror or Rock 'n' Roller Coaster
Animal Kingdom: As the name suggests, this park is all about the animals, and gives visitors the opportunity to see and learn more about animals from the Asian and African continents.
A relatively new part of the Disney experience (within the last few years) is the introduction of MagicBands. These wristbands, using Radio Frequency technology, allow guests to enjoy Disney without the hassle of a room card, or even a credit card. With just the touch of your MagicBand, you can open your hotel door, get access to the parks and FastPasses, and even load money onto your MagicBand. These bands come in eight different solid colors, and are also available in custom graphic skins.
Another new look for Disney is what was formerly known as Downtown Disney. Over the last couple years, Disney's shopping center and restaurant hub has been renovated into Disney Springs, which has doubled the shopping area to include over 25 new stores. While Disney Springs still has classic stores like The Lego Store, Ghirardelli Ice Cream and Chocolate Shop, and World of Disney, it's also made room for some trendy new stores like:
Anthropologie
kate spade new york
Sephora
Under Armour
TROPHY ROOM
ALEX AND ANI
Columbia
Sperry
Disney World is already gearing up for its holiday season. From August 25- November 1, the parks are filled with Autumn and Halloween decor. Colorful leaf garlands and various mickey-shaped pumpkins decorate Main Street U.S.A. Epcot hosts the popular Food and Wine Festival, which usually runs from early September to mid-November. You can sample food from dozens of the country's pop-up booths, or be served food by celebrity chefs. Available in restaurants throughout the parks are special autumn themed treats such as Apple Cinnamon Crepes from AristoCrepes, Ghirardelli Pumpkin Spice Caramel Squares, Raglan Road: Dry Ice Spiced Caramel Apple Martini, and Amorette's Patisserie: Pumpkin Crème Brûlée.
Disney's Halloween experience can only be rivaled by its celebration of Christmas traditions. Starting in mid-November, Cinderella's Castle gets decked out in white lights to give the impression of an icicle covered, snow laden fortress. At dusk, it's lit up during the Castle Dream Lights. Main Street U.S.A. and other major storefronts get decked out in red and green, along with silver and gold ornamentation. Epcot has its International Festival of the Holidays, which explores the seasonal cuisine of countries from around the world. Starting after Thanksgiving, there is a beautiful Candlelight Procession that retells the Christmas story with the help of huge choirs, a live orchestra, and a celebrity narrator. Hollywood Studios features a Jingle Bell, Jingle BAM! mixed media show, which combines film footage with lights, lasers, music, and artificial snow for the holiday magic. Disney stores stock up on their Christmas themed gifts, but to get the most out of a Disney Holiday experience, one needs to look no further than Ye Olde Christmas Shoppe in Magic Kingdom's Liberty Square. Fun, drop-by need-to-see holiday attractions are the life-sized gingerbread house inside the Grand Floridian Resort and Starbright Holidays. Viewable from Disney Springs, hundreds of drones put on a spectacular light show over Lake Buena Vista.
Disney is constantly renovating, and improving the magic. Just late this past May, Pandora — The World of Avatar was added to Animal Kingdom. This world is based on the 2009 sci-fi film Avatar, and boasts massive vine covered trees and colorful plants. In 2019, Hollywood Studios is slated to get a Star Wars Land, which imitates a typical Star Wars trading post, and will include the iconic Millennium Falcon ship. In addition to a new Star Wars Land, there is also a Star Wars themed hotel in the works. Epcot is planning rides based on Marvel's Guardians of the Galaxy and the movie Ratatouille, and there are also plans to construct a high speeds Tron Roller Coaster at Magic Kingdom, where visitors can go up to 60 mph on this forward tilting roller coaster.
Most of the attraction of Disney World comes from its appreciation of the past, while looking to a brighter future. Disney is constantly changing to keep up with the "great, big, beautiful tomorrow." Its changes keep it fresh for people of all ages while staying true to its holiday traditions. Disney provides adult guests with the showmanship and wonder its known for, while giving them unique opportunities. Case in point, as of a few years ago, all four Disney parks now have Starbucks inside them. For us, our idea of a magical ending to the day is by drinking Starbucks and watching fireworks go off over the castle.