Environmental Club goes for the green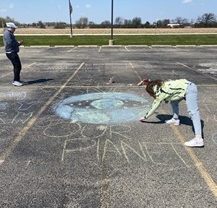 The Environmental Action Club is an environmentally friendly club that students from all walks of life enjoy every week here at McHenry County College. Helping to keep the campus as green as possible is the main goal for members of the club.
Director of Sustainability, Kimberly Hankins, directs the club along with Leslie Krebs. They provide the opportunity for students to lead the club meetings every Tuesday from 2-3 p.m. in room A227. Vanessa Olandese, a student at MCC and president of the club, has held the position of leadership for three semesters consecutively, making her the current longest-serving member in the club.
No two club meetings look alike, with five to ten members attending each meeting to discuss future events and goals. When the snow melts, they also spend every third meeting in the Zen Garden.
"We get to do the designs in the sand and enjoy the outdoors, while still getting to be at school," said Olandese. Their last meeting was joined by guest speakers from the Environmental Defenders, who talked to the club members about unique ways to get involved with helping the planet. Some upcoming activities for the club are:
A visit to the Earth Science Lab with Geology Instructor, Kate Kramer. (February 22nd)
A trip to the Waste and Recycling Transfer Station. (To be determined)
Events that all students at MCC can look forward to:
Zen Garden Kits Fundraiser – The fundraiser is on April 11th, 2022, from 11 a.m. to 2 p.m. They will be selling eco-friendly Zen gardens for students to have of their own. Each personal garden costs $5 with all the proceeds going to fundraising for a new fountain in MCC's own Zen Garden.
Chalk It Up! – This event has two dates that are to be determined. Once announced, all students are invited to help decorate parking spots with sidewalk chalk.
The club meets with various other organizations to collaborate on mission activities for the benefit of the environment. In the past, Phi Theta Kappa Honor Society invited the Environmental Action Club to help clean litter off Route 14. They are open to meeting with other student organizations since they believe that it is important for all to remember that everyone has an impact on our Earth.
Another area of the college that the club works closely with is the Sustainability Center. The two work together to run the Re-Use-It corner and collect unwanted office supplies that can be recycled or reused. In the first year of operation alone, the Re-Use-It corner repurposed 7,000 items. Donations are always accepted and any student in need of school supplies is encouraged to check the E-News weekly for updates on what is available in the Re-Use-It corner. You can also make an appointment via email at [email protected]
Students who would like to participate in club meetings without attending in person due to COVID-19 related reasons can attend via Zoom. The link can be found on the club's Canvas page. There is also a virtual Loyola University Climate Change Conference that will be available from March 14th to the 18th. Hankins highly suggests attending the virtual Loyola conference if you would like "a more global perspective" on environmental issues.
"Anyone and everyone are welcome at the Environmental Action Club as we all live on this Earth and all affect it," said Olandese. Every member has the opportunity to be elected for an officer position within the club. The election is held once every semester and students can vote on the candidates that they would like to see in the positions which are president, vice-president, secretary, social media director, and treasurer. "The club is always evolving, and each semester brings new students, new topics, and new energy to the club. I highly recommend they (students) come visit for a meeting or two and consider joining," said Hankins.
If you are interested in joining, you can attend a club meeting, self-enroll via Canvas, or contact Vanessa Olandese, Kimberly Hankins, or Leslie Krebs and they will add you to the club's Canvas page.