Players face changes in move to college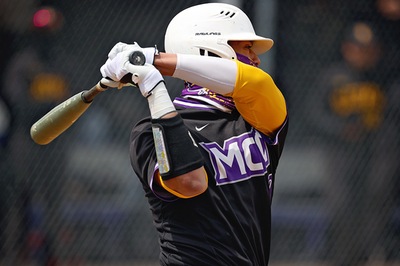 As most people may know, the official baseball season doesn't start until March. But that hasn't stopped the McHenry County College baseball team from competing day in and day out in scrimmages and practices. New faces on the team have to get familiar with their teammates and coaches, as well as get used to the harder level of baseball in which they now play. The past two and a half to three months of preparation for the season, has given the new members of the team a great way to acclimate to college baseball.
"The scrimmages and practices have gone really good. They are very well run by the coaches, and they give us an opportunity to grow relationships with our teammates through friendly competition,"  said MCC freshman infielder Evan Frasch.
Although bonding with your teammates is important, getting used to the higher level of competition may be more important for the new faces on the team. High school baseball often has far worse hitters, lower pitch speeds, and more equal playing time. Whereas once you get to college ball, playing time isn't as equal, pitch speeds rise, and the hitting far exceeds any high school team. Knowing this, the MCC team has competed with their highest efforts to prepare for their season. Frasch summarized their motivation to get better:
"The competition is way different compared to high school baseball in a way that everybody is really, really good here, you don't have anyone here who is playing just because they want to hang out and mess around. Everybody here means business, and everybody is here because baseball is a big part in their life, and they're trying to get to the next level."
With a roster filled with players who all have great talent and big hopes of getting to the next level, it is difficult to give everyone the playing time that they think they deserve. However, not getting the playing time they want, doesn't tear them down. What it does is fuels them to get even better and fight for their spot in the lineup.
"One thing that has been the most difficult thing to adjust to in college baseball is having to fight for a spot. I'd say probably majority of the kids on the baseball team were one of, if not the best player on their high school team, having their position and spot in lock. Now here in college I've found myself, along with a lot of my teammates, now at the bottom of the pack having to fight for my spot in the field", Frasch said.
Another MCC baseball freshman, Josh Notriano, has similar views to Frasch.
"It's a lot different than high school baseball of the fact that pitching has gotten a little better, and everyone around you can hit the ball. I learned playing travel ball that if you take your foot off the gas at any time during the season, someone else who is outworking you can come at take your spot in the lineup. I am sure that's how it is here as well. It's also different from high school ball because we were all top dogs at our old schools and now, we are all on an even playing field. Losing your old top dog status that you might have had in high school can get to a player's head."
As well as a skill increase on the field that freshmen must get used to, their education could have also taken a large leap in difficulty. Unlike how the increase in skill on the field is proven, there is no indisputable fact that makes the college education harder than high school. The reason being some people can take classes that they enjoy which makes the classes easier. Also, classes aren't an everyday thing like they were in high school. Some freshmen, like Frasch, may even find their college education easier than their high school education.
"The workload between my sport and education has been much more manageable than it was in high school. In college I only have classes three times a week and the homework is much easier to take care of than it was in high school. Baseball however is a much bigger commitment than it was in high school, and it takes up a pretty good chunk of my time, leaving me tired and unmotivated at times. Even though I do get my energy and motivation back easily, I'd say those are the only problems with the workload."
Unlike Frasch, not everyone has found their new college education to be as simple as in high school. But with great resources at MCC, they are able to get their necessary help.
"Compared to high school the workload has been a lot harder," Notriano said. "I have less class time per week compared to high school, so that is just less time to learn and ask questions. But almost the whole team has Fridays off, and we also have the library and the Sage center which help us tremendously. So although it is hard, we have places we can got to make it easier."
Notriano also stated that it's not just the increase in workload that can challenge freshman ballplayers, but also the increase in competition.
"One difficult thing that has been hard to adjust to, is the idea that everyone is as good as you, if not better. We all used to dominate in high school. But now against each other, nobody is special because we are all good. It's great for competition, but it can get to a player's head."
The MCC baseball team look to start off their spring season strong. Their first stretch of games are away games against St. Louis Community college — two games on March 5 and two on March 6  at noon and 3 p.m. both days.