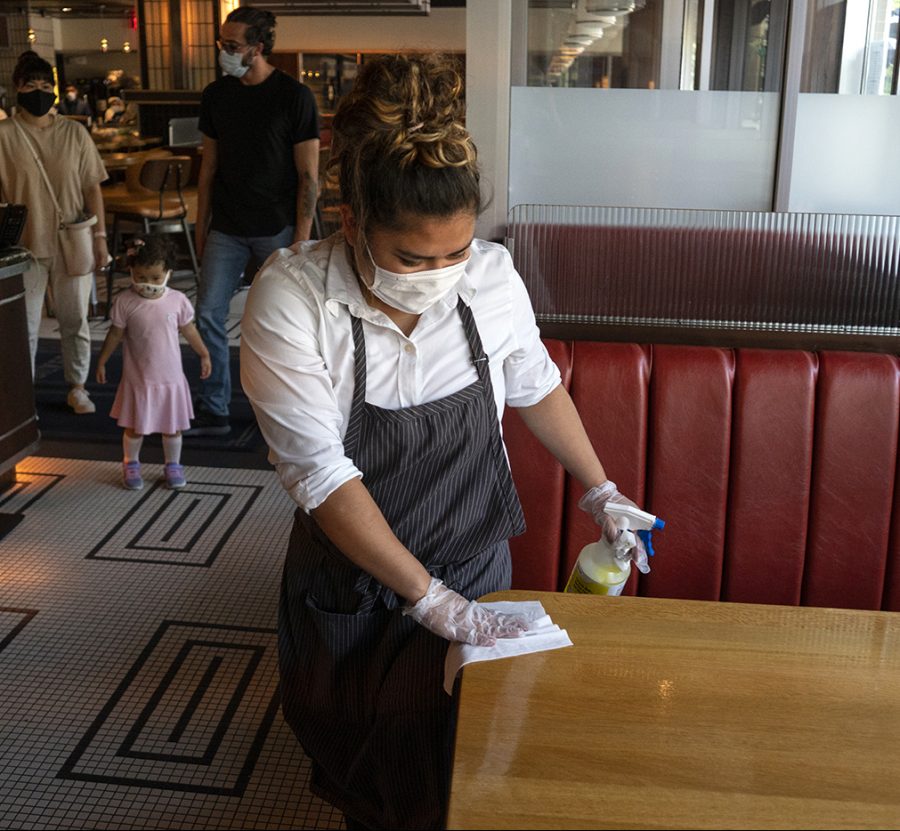 AP
There is no doubt that the Covid-19 pandemic has affected everyone's lives and the entire world drastically. Every day we are learning and adapting to live our new normal as we struggle to contain the global pandemic. According to a survey conducted by the National Restaurant Association, over eight million employees have been laid off or furloughed, meaning that two out of three restaurant employees have lost their jobs. As resilient as food and hospitality workers are, the pandemic has certainly given employees a run for their money. Workers have endured learning new cleaning procedures, a new wave of customers berating staff for enforcing CDC guidelines, and a lack of job security during this crisis.
In the beginning of the pandemic during the first shutdown, many restaurants across the country had to lay off or furlough a majority of their staff. However the tables have drastically turned now — many industry workers used this time to leave the industry completely and now as restaurants reopen fully, there is a shortage of those willing to serve food and beverages. Wait staff is trained to serve you with a smile and good attitude, however, it is still grueling work with long hours on your feet, verbal and sometimes physical harassment from unruly customers, and inconsistent wages.
Nowadays, many restaurants have a help wanted sign in the window, but there is not an influx of people willing to apply. Employers blame this on government stimulus checks and unemployment, when in reality, many industry workers are tired of working long hours for little pay and even less respect. The hospitality industry is also not the only industry that is experiencing a shortage of workers, so this is a great opportunity for people who are through with restaurant life to switch careers.
A positive aspect of the pandemic however is the elevation of cleaning techniques and routines in restaurants. Restaurants and bars already require intense cleaning procedures but social distancing and other techniques to stop the spread have enhanced this greatly. Measures taken such as wearing masks, setting timers every 15 minutes for hand washing and sanitizing, QR codes in place of menus, and more, all made the restaurant industry more efficient and enhanced the cleanliness of some of our favorite restaurants.
During the first restaurant shutdown of the pandemic, communities banded together to support small businesses, using Doordash and Postemates  to order takeout from local restaurants. Once indoor dining was allowed again, there was a very noticeable divide between patrons. On a daily basis, restaurant workers and management have to deal with public freak-outs from customers over having to wear masks around waitstaff, only allowing tables of five or less people, and waiting outside until a table is ready. These are all guidelines that management and employees have no control over, and  they risk losing business if they do not comply, leaving everyone in an uncomfortable situation.
Overall, working in hospitality is a unique experience filled with community, opportunities, and knowledge, but this may not be enough to keep employees post pandemic. The service industry has been changed forever in many ways and if service workers do not start receiving the respect that they deserve from customers and employers, the industry is likely to decline at a more rapid pace. We are all experiencing challenging times, people should support hospitality workers and together we can bring back the vibrancy and joys of working in food and beverage, creating a much more pleasurable dining experience for customers as well.