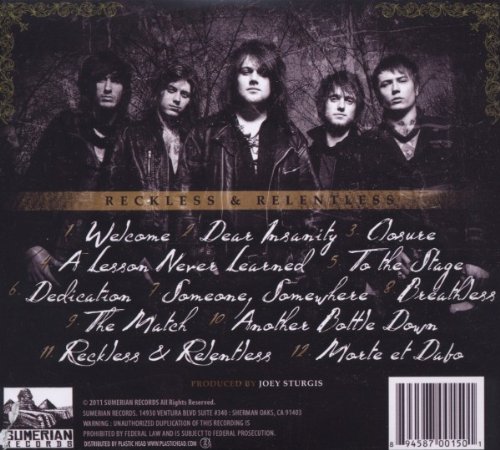 British rock/metal band Asking Alexandria recently celebrated the 10th anniversary of their second full length album, "Reckless and Relentless," on April 5th.
This album has become a staple of the metalcore genre ever since its release, and is still a fan favorite of the band to this day.
Following the release of their debut album, "Stand Up and Scream," the band was quickly gaining popularity amongst their scene, and the band was headlining venues across the country.
However, all that would change with the release of "Reckless and Relentless" sending them to heights only imaginable.
But first, a brief history of the band.
Formed in Dubai, in 2006, guitarist Ben Bruce started the band at 16, with a completely different lineup. After recording their debut EP, "The Irony in Your Perfection," and having local success, the band split up because they were not growing outside their local scene.
Bruce knew that music was his calling and life, and did not give up. He would then move back home to England with plans of starting over with a new group.
It was here he would meet vocalist Danny Worsnop via Myspace, and the two would reform the band, gathering musicians Cameron Liddell, Sam Bettley, and James Cassells from local scene bands in the area.
Despite all being about 18 at the time, Ben moved the band to America in order to get more recognition, where they lived in an RV in a Walmart parking lot somewhere in New Jersey for the better part of a year, before skyrocketing in popularity.
And the rest is history.
"Reckless and Relentless" would be miles more commercially successful than their debut album. Peaking at number nine on the Billboard Top 200, as opposed to their previous peak of 170 from "Stand Up and Scream."
Keep in mind, both those feats are wildly impressive for a metalcore band to achieve, especially in a time where rock/metal was said to be dead in the water.
It was during this time the band would express their love for 80s rock music, going as far as releasing an EP prior to this album with two Skid Row covers featured.
Their rise to stardom saw them bringing Skid Row vocalist Sebastian Bach on stage with them, opening for Guns n' Roses, and sharing the stage with Twisted Sister.
They also played a two-song set  on "Jimmy Kimmel Live."
What really set them aside from the rest was not only their music, but their image. These guys were the wildest and craziest party band of the scene, reminiscent of the bands they took great influence from.
However, the partying and destructiveness put the band down a road of alcoholism and drug abuse.
These themes are prevalent in the lyrics on this album, so let's get into the track list.
Welcome: This album begins with an isolated piano setting the stage for a synths orchestra of instrumentals before Danny comes in to up the tempo with his grueling scream vocals.
Dear Insanity: Welcome flows right into our second track, "Dear Insanity." The fan favorite song reflects heavily on the band's substance abuse; Danny is heard talking about the "white hills and the oceans," a symbol of his cocaine and alcohol usage. The song ends with Danny screaming "welcome to the diary of a man that lost his mind so long ago, welcome to the shell of a man with a heart so black and cold," some of my favorite lyrics off this album.
Closure: Where "Dear Insanity" was full of deeper meanings, "Closure" expresses the band's partying nature. The track opens with some electronics reminiscent of their first album. This song shows the band expressing how they've "drank the drinks and done the drugs," while also showing their confidence. The bridge hears Danny say "I'm everything we need to make this scene what it should have been. Remember platinum albums? Sold out stadiums? Leave it to me."
A Lesson Never Learned: One of the heavier songs on the record, the band adds a lot of synths in the background to up the intensity of this track.There are even more self-revealing lyrics on this track, with the chorus saying "it could be the end of the world, I'll still be laid here on my own, wasting my life away." There is also a vocal performance by Ben Bruce on this song, which was very common on their first album as well.
To the Stage: Moving onto the fan favorite, "To the Stage." One of the more fast-paced songs the band has released. There is fast-paced drumming by James, making this energetic track that much more in your face. The band speaks more on their struggles in this track by saying the line "self-destruction is such a pretty little thing."
Dedication: This isn't really a song, but is interesting nonetheless. It is more of an inspirational message put over an instrumental. However, the words are spoken by James Murray, the original singer of Asking Alexandria from the days back in Dubai.
Someone Somewhere: This song remains a staple of the band and was their first radio friendly song. A pure rock song, "Someone Somewhere" speaks on the struggles of being on the road and missing your life back home, with the ever so catchy chorus saying "even though I'm on my own, I know I'm not alone, 'cause I know there's someone somewhere praying that I make it home." This song also features a very catchy guitar solo by Ben Bruce, who wrote the lyrics alongside Danny.
Breathless: "Breathless" is one of the heaviest on the record, and has a buildup that is made for live performances. This track deals with identity disorder, and the band trying to find who they really are amongst their struggles. The lyrics "save yourself for a man with a conscience" stand out.
The Match: One of the more overlooked songs from this band, "The Match" is yet another heavy song dealing with the consequences of their mistakes. The band talks of not learning from what they've done and continuing to follow their destructiveness.
Another Bottle Down: This track is just as the title describes, a song talking about the struggles of alcoholism. A very heavy track that shows the band describing coming to terms with their struggles and saying how they "made it out alive." Showing that it is a part of their lives, especially when they say "so I'll just do what I do and make the most of it."
Reckless and Relentless: The title track is where the famous line "I am rock and roll" comes from. Danny expresses here how they live the lives of rock stars and how the music industry is full of people whom they regard as "spineless" and "undeserving." They give off the idea that they are the future of the genre, saying lyrics such as, "I've spent the last two years tearing apart my soul, I'll put the next two in to kickstart the good ol' days of rock n' roll."
Morte et Dabo: Undoubtedly the heaviest song in the band's discography, "Morte et Dabo" begins with another orchestral opening that goes right into the wild ride that is this song. Opening the song is a choir singing the words morte et dabo; the Latin term translates to "dead and gone." The band talks about them questioning and rejecting religion in this track, as they end the album on a very anthemic finish with Danny saying the final line "what a way to end the world."
After taking another look back at this album I found the lyrics to be much deeper than I remember them being. Then again, I was 15 when I used to play this album repeatedly.
Karol Gniadzik is in music school to become a producer; he is a big fan of the band and the album.
"It's my favorite album from them," Gniadzik said, "It's still fun to listen to because of how heavy some of the songs get. It's easily a top 10 metalcore album of the past decade."
With the band releasing their sixth full length album in June of 2020, it is safe to say these guys have had a very prosperous career so far.
However, vocalist Danny Worsnop looks back on this album differently.
On Worsnop's Instagram, he made a post for the 10-year anniversary saying this was the darkest point of his life, being that he was only 20-21 years old at the time.
He mentions it sent him in a downward spiral that almost ended his life. He also goes onto say that without this album he wouldn't be where he is today, in more ways than one.
His post was perfectly wrapped up by explaining that this was such an important time for the success of the band that he would not trade it if given the chance.
His conclusion says the time associated with this album won the battle, but he won the war.
The rest of the band speaks similarly of the album, as this period of time led to a multitude of issues resulting in Worsnop leaving in 2015, though rejoining a year and a half later.
To me, this album really is fascinating, and it shows what can happen when fame and self-destruction take over someone, and how many problems can stem from that.
I do believe this album attests to the age old saying "troubled artists make the best music," as I still listen to this band. They have since changed their sound, but there is no denying that "Reckless and Relentless" played a pivotal role in the success of this band.