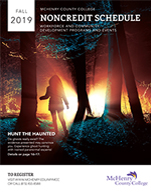 Students at MCC it is that time of year again! Priority registration has officially begun for
the spring semester of 2020. It is great advice to start registering now rather than later.
You are able to register for classes from anywhere such as the computer labs, the library computers, or
even from your own personal laptop or computer.
If you have any questions or troubles then you should see an adviser and they will help you with whatever you need. They are able to
help you by reviewing your transcript, help you choose your classes, prepare you for transfer,
etc. You can meet with an adviser at the advising and transfer center located in room A257.
Once again there is a deadline for registration so be smart and prepare yourself now. If you
register now then it will be easier to get into a class you will need and like to be in rather than
waiting till the last minute. Do not put it off. Hope to see everyone again next
semester!
— By Erik Santos 
Upcoming open house is an intro to MCC
On Wednesday, November 13th, from 5:30 to 7:30, MCC is hosting an open house for high
school students, adults wanting to get their degrees, as well as professionals who are in need of
additional skills or training.
The events taking place in the gym in building A, and in the commons in building B, are free with no reservation required. The goal for this event is to
educate incoming students regarding the topics such as financing their college education, scholarships, college classes for high school students (dual credit), how to transfer college credits, and services for students with disabilities.
The event being held at MCC night, also will try to provide experience and higher end skills with certain professionals needing experience or even knowledge. On top of all this, tasty treats are being provided by the McHenry County College Culinary Management program.
— By Hruz Wagner