First place tennis team earns trip to nationals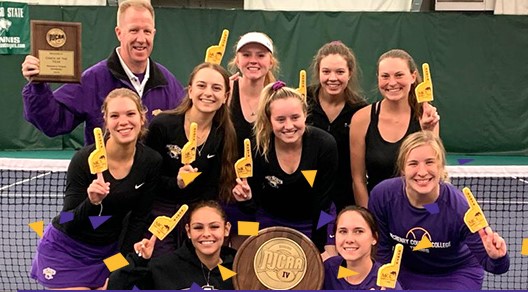 Congratulations are in order for our 2019 Women's Tennis Team here at McHenry County College.
On October 4th, 2019, they competed and won first place and a chance to compete at the NJCCA National Tournament, May 3-8 2020, making them the first team since 2002 to qualify to go to nationals.
The team consists of players Faith Vela, Gabbi Barnos, Kyleigh Kessler, Elizabeth LaLonde, Morgan Paaske, Josephine Schuette, Merritt Whiteside, Alex Jones, and head coach Jim Stockwell.
During the tournament, Faith Vela was third in 2nd singles, Gabbi
Barnos finished first in 3rd singles, Kyleigh Kessler was first in 4th singles, Elizabeth Lalonde was first in 5th
singles, and Morgan Paaske was first in 6th singles. Faith Vela and Merritt Whiteside were first in 2nd doubles,
Elizabeth Lalonde and Morgan Paaske earned first in 3rd doubles. Also, Coach Stockwell won Region IV Tennis Coach of the Year.
Congratulations and good luck at Nationals!