Internships, jobs are focus of campus event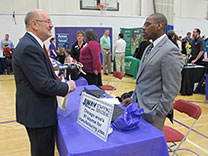 By Hruz Wagner, Staff Writer
October 10, 2019
When it comes to the MCC job and internship fair on Tuesday, October 29th, this event
has something for everyone.
If you're new to the job search arena or looking for a new or advanced job, this event has something for
you. It will be in the MCC gym from 12:30-3 p.m. Up to 80 local employers will be seeking interns, looking for temporary, part time, and even full time employees.
When it comes to to this fabulous event, dress to impress, and bring your resumes, also don't forget your
positive attitudes and charm. The fair is a great way to showcase your skills, talent, and
attitude in front of numerous local employees, which is almost guaranteed to help you in the
future.
It is quite common that building a resume can be challenging at times, so if you