Time to plan for the holiday — for shoppers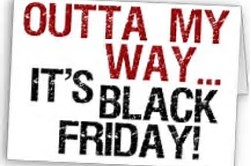 Hang on for a minute...we're trying to find some more stories you might like.
crisp air and burning leaves is unmatched. We also have to look forward to Thanksgiving the day
when we can be gluttons and not feel bad about it and the next day is one an increasing number of
people have taken interest in —  Black Friday. It's becoming a holiday of sorts in its own
consumerist way over the years, it's even taken over part of thanksgiving with some stores such
as JC Penney starting sales as early as 3 pm on Thursday! So how can one become aware just
where to go to get those steals? You can use Black Friday FM, your tool to conquering Black
Friday.
Black Friday FM is basically a database for all types of Black Friday and Cyber Monday
Ads. It uses everything from ad leaks to submitted ads from users registered on the site. It has a
giant compilation of all sorts of stores and brands. Everything from Wal-Mart to Macy's. It
makes it easy to pick a store to check out all their sales.
Just find your store, brand or product you are interested in and it will give you shopping tips, when the ads will come out officially, when the sales start, what to expect, and how to get the best deals year round. It also helps you find the online deals as well. The news tab on Black Friday FM is also a useful tool for finding deals. It brings you the latest released ads news along with rumored ad release dates.
Black Friday has become a full fledged holiday in the last 20 years. The consumers'
holiday. Using this site I can assure you that Black Friday will be a steal.
To access the site go to https://www.blackfriday.fm/