Volleyball star is athlete of the month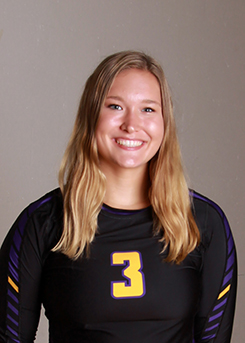 Hang on for a minute...we're trying to find some more stories you might like.
Congratulations to Caitlin Thorelius earning the MCC Student-Athlete of the Month honor for September. The Huntley High School graduate is a freshman on our volleyball team.
Caitlin is a 5'10 middle blocker for the 2017-18 Scots this fall. They are currently 17-7 overall and are currently undefeated in conference play with a record of 4-0. The team is ranked #15 in the nation as well.
Caitlin has a .359 hitting efficiency which leads the team. She has played in all 24 matches thus far and she is #20 in the nation for solo blocks.
"Caitlin has been a major part of the team's success so far, " said head coach Kyle McCall. "She graduated early from Huntley High School and is taking five classes during season, including a lab. She is one of our hardest working, easy-going student-athletes on our team. We value her opinion and look forward to seeing her growth within our program. There are big things ahead for Caitlin."
Director of Athletics Karen Wiley said: "We are always happy and proud to have local student-athletes choose to be part of our ever-growing and dominating volleyball program and athletic department. It is important to us to empower our local talent to the next level academically and athletically. With quiet confidence and class, Anna has already proven to be an awesome addition to our team and department."